ONLINE COURSE
Tuesdays, 7.30pm to 9pm EST, October 23, 30 & November 6, 13, 20, 2018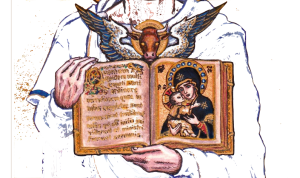 The Gospel of Luke is a rich, inviting, and expansive description of the life and ministry of Jesus of Nazareth. This 5-session, non-credit, online course is an overview of some major themes of the Gospel of Luke as well as a close look at the distinctive ways in which Luke understands Jesus. Topics include Luke's depiction of Jesus as a prophet, Luke's understanding of mission, the importance of prayer, and the central role of women in the gospel.
In 2019, the Gospel of Luke will be the main focus of the cycle of Sunday morning readings that many churches use. This course is designed to be an introduction to the Gospel for those who have no prior background or a refresher for those who want to prepare for the coming year. It is meant for lay people and ordained people, for those who will preach sermons in the coming year and those who will listen to them. It is meant for individuals who wish to join the online classroom from the comfort of their own home, or groups that wish to gather to learn together. There is no required reading (except the gospel itself) and no required papers. This is an opportunity to learn, grow, and prepare for another year in the life of the church.
Weekly topics:
Class 1: Introducing the Gospel of Luke
Class 2: Jesus the Prophet
Class 3: "Good News to the Poor": Luke and Mission
Class 4: Luke and Women
Class 5: "Teach Us to Pray": Luke and Prayer
About the instructor: 
The Rev. Dr. Jesse Zink is principal of Montreal Diocesan Theological College. He has traveled and written widely about Anglican history and theology, including his book Backpacking through the Anglican Communion: A Search for Unity.
---
Cost for 5 sessions*:
$50: Per connection for members of the Corporation of Montreal Diocesan Theological College.
$75: Per connection for all others.
*People who gather in groups are encouraged to pay an additional $25 per person.
Credit: Non-credit
Language of instruction: English
Admissions: Students must have reliable Internet access to participate in the class. Meetings are via Zoom. This course is open to all.
Application and registration: To apply, please contact Beth Reed (info@montrealdio.ca or 514.849.3004 x221).