Tuesday evenings, January 25th, February 1st, and February 8th 7:00pm to 9:00pm

This three-session online course is designed to help participants' grow in their  understandings of the definition and scope of Christian pastoral care through practical exercises, reflection, and discussion. Together, we will practice active listening, consider the ethical dimensions of Christian pastoral care, and reflect on caregiving in select circumstances.
This course is designed for lay leaders, pastoral visitors, pastoral caregivers and others interested in deepening their understanding of pastoral caregiving in Christian communities. Participants with any amount of experience in pastoral care are welcome, including those with no prior experience. Those with prior training looking to deepen their understanding of contemporary questions in pastoral care are also welcome. The material, readings and discussions will be in English, but participants are welcome to ask questions or raise points in the discussion in French.
Participants should register individually and expect to join the sessions on their own connections or shared with 1 other person, maximum, to allow for discussion in the online learning environment. Readings, resources, and exercises will be uploaded to the online learning environment.
This is an open enrolment course; participants are asked to join in discussions, but no work will be submitted or evaluated. Readings and exercises will be provided to prepare for and consolidate learning.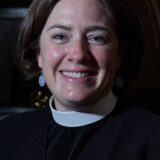 Instructor: The Rev. Jennifer Bourque serves part-time as college chaplain at Montreal Dio, offering pastoral support to students and overseeing the worship life of St. Luke's Chapel. Since 2008, she has worked as a spiritual care professional, working with patients, families and staff from diverse religious backgrounds.
FEES
Regular: $80/person
Friends of the College: $70/person
MORE INFORMATION AND REGISTRATION
Registrations made after Friday, January 21st will incur an extra $25 fee