WEBINAR
Monday, January 13th, 2020
7 PM to 8.30PM EST
The Gospel of John is beautifully written and compelling. It tells complex and wonderful stories, alludes frequently to other passages of Scripture, and contains many structural elements that highlight repeated themes of the good news it has to share. But it also unlike any other part of Scripture and can be challenging to understand. This 90 minute online webinar provides a foundation for students to read the Gospel of John for themselves by offering an overview of the gospel's content, structure, and key themes. Join us to learn about the gospel and then read it throughout the season of Epiphany to come to a deeper appreciation of the text and hear it speak to your lives in new ways.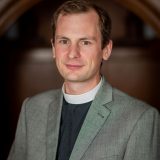 Instructor: The Rev. Dr. Jesse Zink is principal of Montreal Diocesan Theological College and the author of several books about Christian faith in the 21st century, including A Faith for the Future.
What is The Good Book Club?

 
The Good Book Club is an invitation to the church to read the Gospel of John in January and February 2020. Resources and a reading guide are available online. All you need to participate is a Bible. More information is online at www.goodbookclub.org
FEES: FREE
Participation in the Good Book Club is entirely free, but registration is necessary using the button below.
FREQUENTLY ASKED QUESTIONS
How do I participate in this webinar?
This webinar is conducted on the Zoom platform. After you register, you'll receive an e-mail with a link to join. A few minutes before 7pm (eastern) on Monday, January 13, simply click on the link and join. If you've never used Zoom before, you may be prompted to download a small program. Zoom has a number of helpful video tutorials on how to use the technology. We recommend starting with this one.
I can't make it on January 13. Is there another way to participate?
We intend to. All going well, we'll record the webinar and make it available on the college website, hopefully no more than a day or two afterwards.
Can I participate as part of a group?
Yes. We encourage this! If you have the technology such that more than one person can view your screen, we encourage you to gather with a group of people to participate. Only one of you needs to register.