An Open Enrolment Workshop

Friday morning, September 8th, 2023, 9:30am to 12:00pm at the Church of St. Mark and St. Peter in St. Laurent.


Sylvia Keesmat is a distinguished Biblical scholar whose many writings have made the Bible accessible and relevant to people in the pews across Canada. In this morning course, she will lead a study that focuses on climate change and Paul's letter to the Romans, drawing on her new book, Romans Disarmed. The lament of the land and the tears of God over creational destruction run like silver threads of grief through the biblical text. How do these threads weave themselves through our lives, as we increasingly experience deep grief rooted in the devastation of our creational home? Join us in person for this valuable session of study and learning, led by one of the most prominent and challenging lay Biblical scholars in Canada today. 
Tea and coffee will be provided. Bring a lunch to stay for informal conversation following the workshop.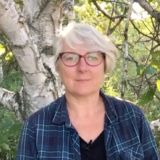 Dr. Sylvia Keesmat is a biblical scholar, activist and farmer. She obtained her doctorate at Oxford University, studying with N.T. Wright, and has most recently taught as an Adjunct Professor of Biblical Studies at Trinity College, Toronto School of Theology, as well as for the Creation Care Studies Program in Belize. She is the co-author of Romans Disarmed: Resisting Empire, Demanding Justice (Brazos Press, 2019) and Colossians Remixed: Subverting the Empire (IVP, 2004). She speaks frequently on topics related to the Bible and economic justice, climate catastrophe, gender justice, and Indigenous justice.
FEE
Regular: $20/person
Friends of the College: Free! Please contact [email protected] for the code.
LOCATION
Church of St. Mark and St. Peter
1650 Rue Decelles, Saint-Laurent, QC
Metro: Côte-Vertu
MORE INFORMATION AND REGISTRATION