AN OPEN ENROLMENT COURSE
5 Tuesday evenings, Oct. 26 to Nov. 23, 2021


7PM to 8.30PM Montreal Time

The Gospel of Luke is a rich, inviting, and expansive description of the life and ministry of Jesus of Nazareth. This course is an overview of some major themes of the Gospel of Luke as well as a close look at the distinctive ways in which Luke understands Jesus. Topics include Luke's depiction of Jesus as a prophet, Luke's understanding of mission, the importance of prayer, and the central role of women in the gospel. 
 In 2022, the Gospel of Luke will be the main focus of the cycle of Sunday morning readings that many churches use. This course is designed to be an introduction to the Gospel for those who have no prior background or a refresher for those who want to prepare for the coming year. It is meant for lay people and ordained people, for those who will preach sermons in the coming year and those who will listen to them. It is meant for individuals who wish to join the online classroom from the comfort of their own home, or groups that wish to gather to learn together. There is no required reading (except the gospel itself) and no required papers. This is an opportunity to learn, grow, and prepare for another year in the life of the church.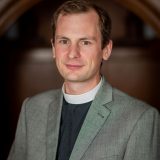 Instructor: The Rev. Dr. Jesse Zink is principal of Montreal Diocesan Theological College and the author of several books about Christian faith in the 21st century, including A Faith for the Future.
FEES
Regular: $90/person, $200/group
Corporation Members: 75$/person, 165$/group 
In light of covid-19 gathering restrictions, anyone interested in participating as a group may pay the group rate and distribute the link to their group members, rather than paying for each connection.
An additional fee of $25 will be added to registrations received after October 22, 2021.
MORE INFORMATION AND REGISTRATION
This seems familiar. Have you offered this course before?
Yes. We offered a very similar course in the October and November, 2018. If you're among the people who took that course, you may find this repetitive. But we think the topic is so interesting, it's worth updating the course and offering it again.