Wednesday evenings, November 1st to 29th, 2023, 7:00pm to 8:30pm

The Gospel of Mark, sometimes called the "action movie gospel" due to its fast pace and direct style, was written for Christian believers living in a tumultuous world. The Roman army was oppressing the people of Palestine, Christians were being persecuted, new people were claiming divine authority to lead, and many people were confused about how to find their way in a changing society. This course will introduce students to the background, key themes, and message of the Gospel of Mark, and will help you think about what it means to be a faithful follower of Christ in our own changing world. Themes include: understanding Jesus and his significance, the "political Jesus," the use of parables and miracles, a resurrection story like no other, and much else.
This course was offered once before in the fall of 2020.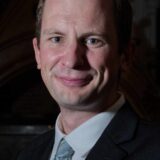 Instructor: The Rev. Dr. Jesse Zink is principal of Montreal Diocesan Theological College and the author of several books about Christian faith in the 21st century, including A Faith for the Future.
FEES
Regular: $90/person, $200/group
Friends of the College: 75$/person, $165/group
There will be a $25 late fee for anyone who registers after October 27th, 2023.