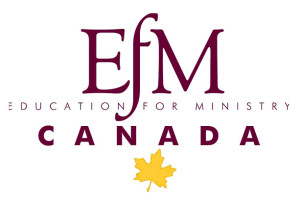 Education for Ministry (EfM) is a program of theological education by extension for lay people. There are four years of study, but participants commit for one year at a time, meeting in small groups with a trained mentor. The program combines academic study with integrative components to help participants take what they learn about Scripture, Church history, theology, and ethics into their own lives and hearts, supporting them in living out a vibrant baptismal ministry in the Church and in the world.
From September 2018 to May 2019, the EfM Program will be held at two locations:
Grace Church, Sutton
52 rue Principale Sud
Sutton, QC
J0E 2K0
1:30 pm to 3 pm on Tuesdays
Please contact the mentor Tim Smart: tsmart@montreal.anglican.ca
Montreal Diocesan Theological College
3475 University
Montreal, QC
H3A 2A8
Tel: (514) 849-3004
7 pm to 9:30 pm on Wednesdays
Please contact the mentor Jim Pratt: jpratt@montreal.anglican.ca
The cost of tuition is $350 for the year, plus textbooks.
Bien que tout le matériel imprimé est en anglais, nos discussions de groupe accueillent votre participation à la fois en français et en anglais.
For all general inquiries about the EfM program, please contact the diocesan coordinator Nancy Greene-Gregoire: greenenm@gmail.com