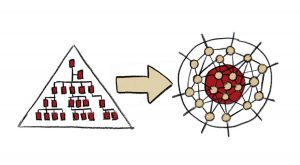 Dear colleagues,
Last Friday, the Ministry Seminar for students in the first two years of the M.Div. discussed Bivocational: Returning to the Roots of Ministry by Mark Edington, who is simultaneously rector of an Episcopal Church in Massachusetts and director of Amherst College Press.
As the church continues to change, I highly recommend this short book to you. (You can read the introduction of the book for free on-line.) Edington thinks both practically and theologically about what is essential about church that we need to hold on to and what we can let go of as we discern the new thing God is calling us to. But in this short note, I want to flag two points that Edington makes in the introduction.
First, Edington distinguishes between the Encyclopedia Britannica model of organization and the Wikipedia model of organization. The former is a massive, professionalized, top-down, hierarchical structure. The second has a small core of paid staff who organize the passions and energies of a huge array of people who are united around the common goal of making information available. Edington says the church we've inherited is like the Encyclopedia Britannica but the one we're being pushed towards needs to look much more like Wikipedia, what he calls "a church of the commons."
Second, it's worth remembering that there is nothing immutable about our current ways of church organization. The model of having a church building (and parish hall) with a full-time salaried priest who is educated to a certain level is relatively recent. (The Master of Divinity degree, for instance, is really an invention of the 1970s and has only been offered in Montreal since the mid-1980s.) Holding fast to a particular form of church organization is important if there are elements of that church organization that have intrinsic worth. But if we're just trying to hold onto something because we can't think of anything else, well… Edington might say that we need to let God work in our imagination a bit more.
Our conversation on Friday ranged widely and encountered a whole number of questions that are not easy to answer. But I draw great energy from the fact that there are thoughtful and faithful Christians preparing for ministry who are eager and willing to engage with the challenge of leading a church that is responsive to and designed for the world in which it finds itself. It is what Christian leaders have done for centuries, and it is our calling today.
Faithfully yours,
Jesse Zink
This reflection was written by College Principal Jesse Zink for this week's Wingèd Ox, a community news digest named for our patron, St. Luke, and published weekly during the term on Monday (or Tuesday when Monday is holiday).