DIPLOMA IN MINISTRY
An award for students with previous theological study who are now preparing for Christian ministry.
The Diploma in Ministry (Dip.Min.) is a one-year (30 credit) program for students with previous theological study who are preparing for ministry in an Anglican church or other denomination. The program combines a ministry placement with coursework in subjects related to Christian ministry and Anglican studies. The program is designed for students who studied theology at some point in the past but had no intention of entering ministry then or those who are looking to transition into ministry in the Anglican tradition.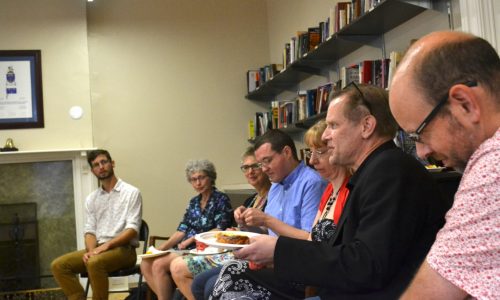 Students in the Diploma in Ministry are enrolled in the college's In Ministry Year, an innovative program of contextual theological education. Students are placed full-time in a parish or other ministerial setting and work closely with a designated supervisor and learning support committee. They attend that church every Sunday, leading worship, preaching, and generally becoming part of the life of the community.
This in-person learning is complemented by ongoing classroom learning. Students split their week between their ministry placement and courses on subjects like pastoral care, preaching, mission, leadership, and Anglicanism. These courses are structured to enable students to reflect on their placement and further their preparation for ministry. All these courses (except Anglicanism) are taught ecumenically by faculty of the Montreal School of Theology and all courses are offered in a hybrid-online format meaning that the In Ministry Year can be completed in a low-residency format.
The courses required for successful completion of the Diploma in Ministry are:
Supervised Field Placement (MST 500; equivalent to 12 credits): The third year of the M.Div. has a strong component of learning through practical experience. This theological field education framework employs disciplined theological reflection in various contexts to develop skills and capacities for ministry.
Christian Mission (MST 561; 3 credits): Explores various theologies and practices of mission, and the specific cultural challenges of evangelization in our North American context.
Principles of Preaching (MST 531; 3 credits): This courses focuses on the fundamentals of sermon preparation, exegesis for preaching, developing a message, and sermon structure. This course also includes a preaching tutorial where students present sermons for feedback and reflection.
Pastoral Care (MST 511; 1.5 credits): Introduction to the basic skills of pastoral care, and exploration of the particular gifts and challenges the student brings to this ministry.
Education and Formation (MST 541; 3 credits): Examines educational theory, theology and practice, and develops skills and knowledge for ministerial leadership in faith formation and education.
Congregational Leadership (MST 562; 1.5 credits): Provides students with lenses to study the congregation, and explores the various dynamics of leadership, particularly in the context of ordained ministry.
Anglican History and Theology (3 credits): An overview of the Anglican tradition, with a particular focus on contemporary expressions of Anglicanism around the world.
Anglican Liturgy and Worship (3 credits): The theology and development of Anglican liturgy.
In addition, students are enrolled in a non-credit seminar on Liturgical Celebration and meet an intercultural encounter requirement, which is decided in consultation with college faculty.
Students preparing for ministry in a denomination other than Anglicanism may meet the denominational studies requirement in a different fashion.
APPLICATION AND ADMISSIONS
To apply to the Dip.Min., students must apply directly to the college. The general requirement for admission is a previous degree in theological studies—including Bible, church history, theology, ethics, and other related subjects—at the undergraduate or graduate level. Contact us for more details about how your background may have prepared you for admission to this program. In certain circumstances, we may ask you to take one or more qualifying courses to round out your previous education and ensure you are prepared for the program.
Questions? Ask the Admissions staff