Dear colleagues,
The church calendar this week gives us a series of excellent commemorations. On Tuesday, the church remembers the fabled Jesuit missionary to China, Francis Xavier. On Wednesday, it's Nicholas Ferrar, the oddball founder of a 17th English religious community. Friday, of course, is the commemoration of a 4th century bishop of Myra in modern-day Turkey named Nicholas, better known as (Jolly Ol') St. Nick, the inspiration for Father Christmas and Santa Claus.
But as the semester comes to an end, I find that I am drawn this year to Saturday's commemoration of Ambrose. In the late 4th century, Ambrose was the governor of Milan, a place then sharply divided between orthodox "Nicene" Christians and dissenting Arians. When the bishop died in 374, both sides were determined to put one of their own into office. Ambrose, fearing violence, turned up at the meeting that was selecting a new bishop and tried to calm people down. As he was speaking, someone called out, "Ambrose, bishop!" Pretty soon, everyone was saying the same thing.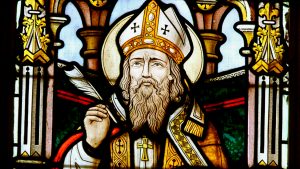 The trouble was Ambrose wasn't a priest, he wasn't a deacon, and he wasn't even baptized. And he certainly didn't want to be a bishop. So he tried to evade the call and prove himself unworthy for the office. He brought prostitutes into his home to shake confidence in his character. He fled the city and went to stay with a friend. Nothing worked. The people were united in their demand. Ambrose was duly baptized, ordained through the orders of ministry, and within a week was bishop of Milan. He stayed in that post for nearly a quarter century during which time he played a critical role in the conversion of Augustine of Hippo.
There are many things I love about Ambrose's story. But what I often find myself dwelling on is Ambrose's first decision: he showed up at that church meeting. From that flowed everything else. It's appropriate that Ambrose's commemoration falls during Advent, the season in which we prepare for Incarnation, or, as you might call it, the divine showing up. Beginning with the Incarnation, Christ's ministry is one of continually showing up. He shows up where hungry people need to be fed, where sick folk are looking for health, where people are waiting for good news of liberation and salvation, and most of all on the cross that redeems us all.
As this semester comes to an end, I find myself grateful for the many ways in which all of you have shown up in this college—in the classroom and in conversations, in chapel and around the meal table, in prayer and support for one another in countless ways. You have repeatedly shown up and brought your whole self with you in ways that testify to the great faithfulness and generosity that exists in this community and which continually inspires me in this work.
These seasons of Advent and Incarnation that lie before us are times to show up with others—families, friends, and loved ones—and press pause on our common life. May you have a restful break and return refreshed and renewed for another season in the life of this community.
Faithfully yours,
Jesse Zink
Principal
This message was written by College Principal Jesse Zink for this week's Wingèd Ox, a weekly news digest distributed to the college community.