The Montreal Dio community celebrated the achievements of its students and the conclusion of another academic year with a festive Convocation service on Monday, May 6 at St. George's Church in downtown Montreal.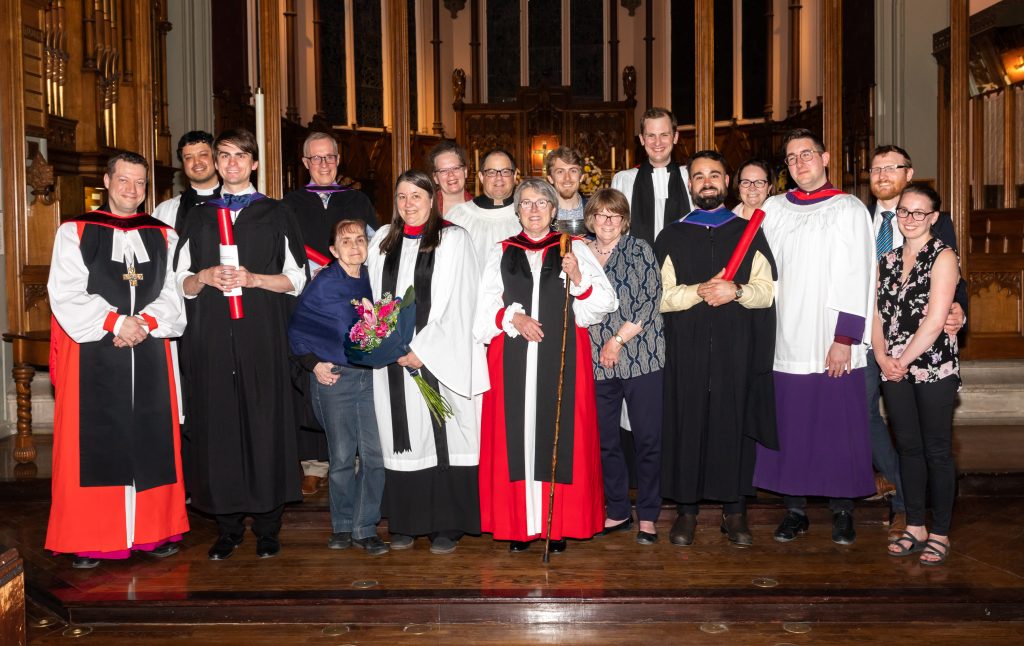 There were two graduates from the Diocese of Montreal. Tyson Røsberg was awarded a Master of Divinity (with distinction) degree. Geert-Jan Boudewijnse was awarded the Licentiate in Theology, a program that combines distance education through the college's Reading and Tutorial program with one year of residential study in Montreal. From the Diocese of Quebec, Scott Potter was awarded a Master of Divinity degree.
For the first time in history, the bishops of the Dioceses of Montreal and Quebec are both graduates of Dio. The college recognized this by awarding honorary doctorates to the Rt. Rev. Bruce Myers of Quebec and the Rt. Rev. Mary Irwin-Gibson of Montreal. Bishop Myers' citation highlighted his passion for ecumenism, his commitment to ongoing study and learning in the church, and constant travel across his vast diocese to build up the fellowship of the church. Bishop Irwin-Gibson's citation pointed to her trail-blazing role, from her days as a young woman priest in the early 1980s to her long service as a parish priest in communities across the diocese. It also highlighted her present leadership of the diocese, as she encourages Anglicans to take further steps in ministry in French and English and point people towards Jesus.
The Convocation address was given by Ms. Melanie Delva, reconciliation animator for the Anglican Church of Canada. In her address, she used the story of the conversion of St. Paul on the road to Damascus as a way to encourage students to reflect on their new and constantly renewing identity in Christ. Ms. Delva also spoke at an event earlier in the afternoon on the theme "Reconciliation as a Spiritual Practice."
Several prizes were awarded to students. The Bancroft Prize for the best theological essay was awarded to Ben Stuchbery for his essay, "Humility and Self-Deception: Approaching God, the Self, and the Neighbour in Teresa of Avila's Thought." The Rev. Canon Dr. Lettie James prize for pastoral theology went to Susan Searle for an essay on pastoral approaches to medical aid in dying. The Bishop Russel Brown award is voted on by the students and awarded to the student who has made the greatest contribution to community life. This year it was awarded to Peter Lekx. And the Gault Award, for the graduating student with the most potential went to Mr. Røsberg.
Convocation also recognized five graduates of the Education for Ministry program in the Diocese of Montreal: Gail Booth, Sandra Fortier, Valerie Horne-Godue, Lucie Langlois, and Cynthia Pagé.
Take a moment to browse through our photo album of the Convocation service and reception.