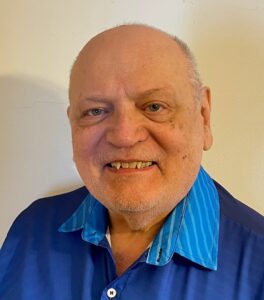 La version française est disponible.
Montreal Diocesan Theological College (Dio) & United Church Studies at Dio is pleased to announce the recipient of the Craig Chaplin Award to be presented at Convocation 2023: The Rev'd Ken DeLisle, a United Church minister, recently retired as Interim Principal of the Centre for Christian Studies in Winnipeg. 
The Craig Chaplin Award was formerly part of the awards and honours of the United Theological College (UTC) in Montreal. It will be revived this year by UTC's new iteration as United Church Studies at Dio. The award was established by a legacy from Rev'd Craig Chaplin in June 2001 with the instructions to be presented "in recognition of the particular ministries of gay and lesbian people both within the formal, organized structures of the Christian Church and without." It is intended to honour "those whose life's work has… embodied such central Gospel values as personal courage and integrity, life-affirming faith and spirituality, an unswerving commitment to social justice and a sustainable environment, and solidarity with those who are poor or marginalized."
The 2023 recipient, the Rev'd Ken DeLisle, was the first openly gay person in 1994 to complete diaconal ministry preparation in the United Church of Canada. He has served as an inspiration and model to LGBTQ2+ persons called to ministry. He grew up in Ontario and moved to Manitoba in the 1970s. He holds a Bachelor of Arts in Political Science, a Master of Arts, International Affairs, and a Masters of Theological Studies in Diaconal Ministry. In 2008, he was named as a Companion of the Centre for the Centre for Christian Studies (Winnipeg). He has been an outstanding advocate for LGBTQ justice within and beyond church walls through many years of ministry and is known as a man of courage and deep faith, as well as warm hospitality. He was married to Rev. John E. Robertson from 1979 until John's death in 2021.
The award highlights the ministry of gay and lesbian persons in the ecumenical community of churches and includes for the recipient a select piece of Canadian Art presented in-person at the Convocation Service & Ceremonies of the College on Monday evening, May 8, 2023 at Christ Church Anglican Cathedral.