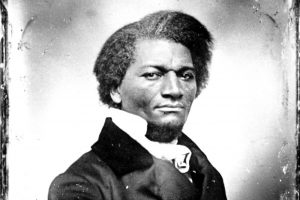 Dear friends,
Last week in the Christian Mission class, we discussed how the Bible relates to mission. Among much else, the class talked about whether it is helpful or appropriate to speak of the Bible as having a narrative of mission that unifies those disparate texts. It was a good conversation and left me thinking—again—about the role that the Bible takes in our Christian faith.
I've also been thinking about this as I look ahead to this Wednesday, February 20th, which marks the 124th anniversary of the death of Frederick Douglass, orator, journalist, abolitionist, campaigner for women's rights—and prophet. Douglass has been much on my mind lately because I have been reading the new biography Frederick Douglass: Prophet of Freedom. The book makes clear that Douglass has a credible claim to being the greatest American of the 19th (or any) century. But what has impressed me most is how saturated Douglass's campaigning and speaking and writing were with the Bible. Indeed, that's where the sub-title of the book comes from: the author repeatedly points to how Douglass turned to the Bible and saw a message of freedom and liberation. It was that message that he then made central to his life's work. There are some affecting descriptions of Douglass attending church as a slave, learning to read, and being transfixed by what he found in the Bible. 
Christians are people who have a relationship with the Bible. That relationship is not always entirely a happy one. Sometimes there are parts of the text—about conquest or slavery or sexuality, for instance—we find repellent and they can overwhelm the parts towards which we are drawn. But the message of Frederick Douglass, and of countless others like him throughout history, is that the Bible transforms lives and draws us deeper into ministry in the world.
So as we remember Frederick Douglass, I invite you to consider what messages in the Bible speak to you most consistently and forcefully. In what ways has your walk with God been shaped and saturated by Biblical themes? And as you look ahead to positions of religious leadership in the church, I invite you to consider how you can share these themes with others and invite others into a life saturated by the Biblical text.
Faithfully yours,
Jesse Zink
Principal  
P.S. Frederick Douglass is remembered widely by Christians. Drawing on Douglass's background as a journalist, one American diocese is hosting a "blessing of journalists" day on Wednesday. Truly, the liturgical calendar is a never-ending inspiration to creative forms of ministry in the church.
This message was written by College Principal Jesse Zink for this week's Wingèd Ox, a weekly news digest distributed to the college community.