Beth Reed, who served for many years as the college's administrator, died on February 26. Principal Jesse Zink offers this remembrance: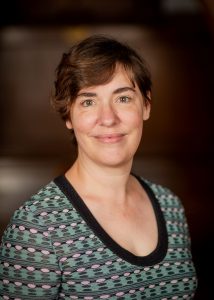 Beth Reed was the first person I saw on my first day as principal of the college. As I somewhat tentatively walked through the front door, she gave me a big smile, came out from around her desk, and offered me a warm welcome. My overriding memory of that first day is spending the morning in my mostly empty office as she began to teach me everything I needed to know. She was good at this. I was the fourth principal under which she served and by far the least experienced with the college. I had a lot to learn and she had so much wisdom to offer.
Beth often told me that her workspace—not far from the front door of the college, close to the steps leading down to the student area, right next to the sacristy—was an "interruption rich environment." Indeed it was. I know she sometimes struggled with this, but I also know that she saw the interruptions as part of her work. For her, the work was more than a job. I think it was part of how she understood her ministry. She was in touch with students and their concerns in a deliberate and important way and helped support them as they moved towards ordination. It has been moving to hear from former students since her death about how much Beth's generosity and good humour was so important to them during their studies. Beth was active in so many aspects of the college's life. She often took a turn on the rota to lead one of our daily prayer services. She occasionally preached in chapel, and did a very fine job every time she did. In all her interactions, her energy, determination, and talent made her a vital centre of the college's life and work.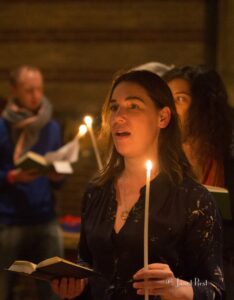 Beth always wanted the college to be better—in a very practically minded way. She was full of ideas for how we could change things, improve processes, and otherwise get our house in order so we could serve the church more fully. When we came up with new ideas, I could count on her to ask the question to the effect, "But how are we actually going to make that happen?" No doubt, we often moved more slowly than she would have liked, but she played a critical role in helping us transition to new procedures and new technology. Oftentimes when she was on leave from the college in the last few years, I would think to myself while using a new product or tool, "I can't wait to show this to Beth when she comes back. She'll love it!" While I'll never be able to do that, I do think she would be delighted at some of the advances we've made.
Beth was full of opinions and loved to share them. I loved hearing them because they often taught me something I didn't know or offered a valuable perspective on a situation that I hadn't considered. In one of my last phone calls with her a few weeks before she died, she talked about how she wanted one day to be a member of the college's Board of Governors. She was still so committed to our work. She would have been a great board member and we would have all benefited from her perspective.
Perhaps my overriding memory of Beth, however, is her warmth of personality, generosity of spirit, and above all her quick sense of humour. One October, our chaplain made an announcement at our weekly Wednesday lunch about how All Souls Day was approaching and we would be collecting names of people who had died in the past year to "pray for" at the service. This sparked an impromptu and vigorous debate about precisely how Anglicans relate to the dead. Prof. Torrance Kirby, professor of ecclesiastical history, wanted to be absolutely sure no one thought we were praying for anyone to get out of purgatory, nor that we were praying "to" the deceased either. Someone asked if we could "remember before God" those who had died. Prof. Kirby mulled this over but before he could reply, Beth said, "Don't worry, Prof. Kirby. When you're dead and gone, I won't pray for you or remember you!" That brought down the house—and also brought an end to the conversation.
Beth's death is a tragic loss for her family, her friends, and for the many communities of which she was a part. As we mourn this loss, I pray for her family and give thanks and remember before God this servant of the Lord, daughter of the church, and vital member of the Dio community.
All of us go down to the dust;
Yet even at the grave we make our song:
Alleluia, alleluia, alleluia
May she rest in peace and rise in glory.