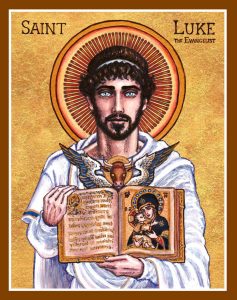 Over 80 students gathered this fall to take a journey into the Gospel of Luke, thanks to a new course offered by Montreal Diocesan Theological College.
"Luke: A Journey with Jesus" represented a new offering from the college, widely known simply as Montreal Dio. Rather than making students come to traffic-choked downtown Montreal for continuing education, the course met entirely online. Rather than being designed solely for students preparing for ordained ministry, the course was taught at the level of adult education in parishes.
"Consistent and high-quality engagement with Christian Scripture is one of the most sure ways to deepen faith and build a culture of discipleship," said the Rev. Dr. Jesse Zink, Dio's principal and the instructor of the course on Luke. "But we also know that some churches have difficulty providing that on a regular basis in their congregations. We wanted this course to help fill that gap—while also preparing people to listen to, learn from, and preach about the Gospel of Luke in the coming lectionary year."
Feedback to the course has been positive. The Rev. Canon Giuseppe Gagliano of the Diocese of Quebec gathered a dozen people in his rectory every Tuesday evening for the course. He said afterwards, "From a ministry perspective, it provided an opportunity for people to gather together and learn from the Scriptures. As a priest, it was helpful to have this kind of course offered, where I could also learn and not be responsible for the content. We need more good, sound, and reflective teaching like this in the Anglican Church."
Students in the course were encouraged to join the course either as individuals or as groups. The result was 35 "connections" to the Zoom classroom, from eight dioceses in four time zones in the U.S. and Canada, half representing groups and the other half individuals. Students were able to interact during the week with the instructor in an online discussion forum. The resources of the course, including recordings of all the classes, are now archived online for students to consult during the course of the year.
The title of the course was deliberately chosen. A major portion of the Gospel of Luke is structured around Jesus' journey to Jerusalem and the gospel repeatedly returns to the theme of movement. The five 90-minute sessions focused on major themes in the gospel, such as Luke's depiction of Jesus as a prophet and his prophetic ministry, Jesus' teachings on meal fellowship, the role given to women in the gospel, and the connection between prayer and the kingdom of God.
Dr. Willis Noble, who joined the course from the Diocese of Fredricton, said, "These lectures have been the finest theology lectures that I have ever taken. The point about the Bible being the book that Christians are to engage with really hit home to me. The list of benefits for me in my Christian thought is astounding."
This online course is only the first step in Dio's focus on the Gospel of Luke this academic year. On February 2, 2019, the college is offering a training day on leading Bible study groups on their own. "We believe that there are many lay people in churches who are capable of leading Bible study but need a little support to gain the confidence to do so," said Principal Zink. "On this training day, we'll coach people in some of the skills needed to facilitate groups and also walk people through a specially-designed curriculum so people can lead a Bible study in their own church during Lent." The training day meets simultaneously in person in Montreal and online in a Zoom classroom and is open to anyone, regardless of whether they enrolled in "Luke: A Journey with Jesus."
"Vitality in church life comes from engaging practices at the core of our faith, and Bible reading is chief among them," said Principal Zink. "We want the college to continue to be a resource for helping congregations grow in faith and learning as they grow closer to Christ."