Montreal Dio in partnership with the Montreal School of Theology (MST) is pleased to announce the launch of the Montreal Mission Internship (MMI) for the summer of 2023, running May 29th to July 28th. MMI is a service-learning program for 18-25-year-olds who feel called to explore the work of Christian ministry outside the walls of the church. The program centres around three main components: service, reflection, and discernment. "This is an internship in Gospel values of love, mercy, and justice," says Pr. Eric Dyck, Acting Principal of Dio. "I wish I were 21 again and could apply for this opportunity for faith active in love and active in service." 
Young people are coming of age in a world shaped by a pandemic, climate catastrophe, rising class inequities, and movements toward reconciliation and racial equality. The purpose of MMI is to give young Christians an opportunity to put their faith into action and discern how they are called to serve God's vision against the backdrop of the increasingly complex and oftentimes overwhelming world in which we find ourselves. Interns come from across the country and from a range of denominational backgrounds creating a fruitful environment for collaborative learning, reflection, and discussion. The college provides an honorarium to each participant so that finances need not be a barrier to participation.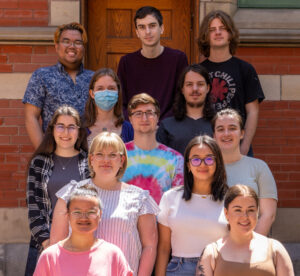 Last year, Dio welcomed 13 young adults to the college for a summer of learning through service to others and growing in faith through MST's theological reflection model, a tool which helps participants to discern God's presence in everyday situations. The faculty and staff at Dio are looking forward to welcoming a new cohort of interns this year. Program Director Alan Ma has been hard at work refining and re-developing the program to accommodate more interns and to include more opportunities for leadership development. "Last year the theological reflection sessions were rated by the students as the most powerful tool for reflection, discernment, and growth. It was exciting to read and notice the progression of maturity by each participant every week," says Alan. "This year, the theological reflection will continue to be the primary instrument for learning and reflection in our weekly regroupings. We will also facilitate additional leadership development opportunities for the new cohort to experience and grow from." 
MMI has partnered with several social service organizations in Montreal for the summer, including Jesuit Refugee Service, Tyndale St. Georges Community Centre, and Ministry to Seafarers. Interns will be placed according to their area of interest or desired area of growth. The placements will challenge participants to confront the realities of the marginalized, find where God is at work in difficult places, and stretch their faith. "The internships will be difficult work," says Alan. "Every day, the participants must face the inequities experienced by the marginalized. Through this challenging experience, we hope that the participants will continue to mature in the faith and discern how God is calling them." 
Applications are open now for MMI 2023. You can learn more about the program and fill out an application at www.montrealmission.ca. Printed publicity material is also available for those who are interested in helping spread the word. Please contact [email protected] if you would like to receive flyers, or a digital poster.