In the busiest of times and when I most need it, I sometimes forget to play. This a reminder, to myself and perhaps also to you, that even a few minutes of play has a remarkable capacity to connect us to our bodies and to our souls. God who touches this world with beauty and awe invites us to playfully and joyfully encounter all that is.
So, here are some random and playful selections to spark in you something that feels like play (and hopefully, like joy)
You do not have to be good.
You do not have to walk on your knees
or a hundred miles through the desert, repenting.
You only have to let the soft animal of your body love what it loves.
Mary Oliver, Wild Geese, Dream Work, 1986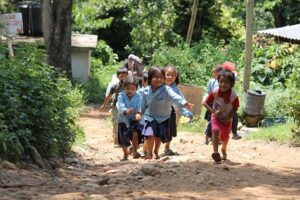 Zechariah 8:5
And the streets of the city shall be full of boys and girls playing in its streets.
Alyson
Direction of United Church Studies
This message was written by Alyson Huntly for this week's Wingèd Ox, a weekly news digest distributed to the college community.