The Master of Divinity (M.Div.) degree is widely accepted as preparation for ordination in the Anglican Church of Canada and many other churches. Our M.Div. combines rigorous academic learning, ecumenical theological reflection, and sustained opportunities for supervised engagement with diverse ministry contexts. Students leave prepared for faithful and creative leadership in churches charting their way to a new future. Through our membership in the Montreal School of Theology, the degree is accredited by the Association of Theological Schools of the United States and Canada.
An Outline of the Program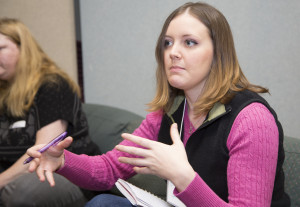 Our M.Div. is offered in conjunction with the School of Religious Studies of McGill University and the institutions of the Montreal School of Theology. It can be completed in three years (full-time), though many students complete it on a part-time basis as well.
In the first two years of the program, students are enrolled in courses on the Bachelor of Theology (B.Th.) program at McGill University. In these two years, students take courses at one of the leading theology faculties in Canada and learn of the historic wisdom of the Christian tradition. Required topics include the Old and New Testaments, Christian Theology, Ethics, Church History, Christianity in a Global Context, as well as elective courses including Greek and Hebrew. (See the full list of required B.Th. courses.) At the same time, M.Div. students participate fully in the life of the college, including worship in the chapel and our weekly community gatherings. They are also enrolled in a seminar that introduces them to the Anglican tradition.
The third year of the program is the college's innovative In Ministry Year. Students are placed full-time in a parish or other ministerial setting and work closely with a designated supervisor and learning support committee. They attend that church every Sunday, leading worship, preaching, and generally becoming part of the life of the community. Every other week, they work in the parish for 40 hours during the week, contributing to the ongoing ministry of the church and being exposed to a variety of learning opportunities.
This in-person learning is complemented by ongoing classroom learning. Every other week, students return to the college for classes in subjects like pastoral care, preaching, mission, leadership, and Anglicanism. These classes are structured to enable students to reflect on their placement and further their preparation for ministry. All these classes (except Anglicanism) are taught ecumenically by faculty of the Montreal School of Theology. (Students with previous theological study and looking to prepare for ministry can apply directly to the In Ministry Year and our Diploma in Ministry program.)
Over the three years of the program, students write a four-part Integrative Paper that allows them to bring together their classroom and field learning and reflect on their preparation for ministry.
Admissions, Applications, and Tuition
To apply to the M.Div., students must apply simultaneously to the B.Th. program at the School of Religious Studies at McGill University and to Montreal Dio. The general requirement for admission is a previous undergraduate degree (in any subject) with a minimum of a 2.7CGPA.
Our relationship with McGill gives us great flexibility in which students we can admit. In particular, students without a previous undergraduate degree or without the necessary CGPA may also apply to our programs to prepare for ministry, although would need to take more than two years of courses of the B.Th. at McGill. Please contact us with any questions you may have.
McGill's application form is available online and includes a charge of approximately $107. Our application form is available on this page. There is no charge for applying to the college, though in order for your M.Div. application to be complete, you must also apply to McGill.
Transfer credits from other theological colleges are accepted. Please contact us to find out more.
Under the terms of our affiliation agreement with McGill, tuition is paid directly to our college for all three years of the program. For the first two years of the program, students also pay student fees to McGill. See our tuition and fees page for more information, including about financial aid.