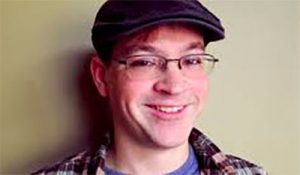 Mr. Alexander Quick is currently a Chaplain within the University of Cincinnati Health System. A native of Ann Arbor, Michigan; he first came to Montreal after completing an M.T.S at the University of Toronto for the 2011 Montreal Ministry Internship. He came back the following academic year for the Diploma in Ministry program at Dio. Since graduating in 2013, he has completed a Clinical Pastoral Education residency at a hospital in Mid-Michigan where he worked with families in the neonatal unit, as well as families experiencing perinatal loss. When not working, he has enjoyed getting to know Ohio's Queen City, and is lamenting the lack of cross country skiing.
---
When I am asked about my background and how I ended up where I am, sometimes I like to say I was an art student who realized there was no money in it and went into ministry instead.
This is, of course, only partially true. I did start my undergraduate career as an art student, but my interests and passions lead me elsewhere, my classmates were in it for the passion, I used it for reflection and relaxation. My chosen specialty was photography, a field that I chose at first because of its non-reliance on my terribly fine motor skills. But as I started my studies and found myself working on various projects, I started to really appreciate the art for multiple reasons.
I loved how interactive it was. Photography is immersion. Even when hanging on the wall, photographs document people, places, events. Photographs come with a history, and are all but begging us to ask about when and why they were taken, and asking us to share their story. When photos are shown together, they can take instantaneous vignettes, and weave them together into a narrative, one that invites us into intimate, fleeting moments. Or they can be used as calls to actions, as ways of challenging our conceptions of viewing the world, potentially transforming us in someway with only a mere glance from us.
I also adored its ability to capture the sheer beauty that surrounds us every day that we may miss in the hustle of our lives. Hunting for these moments of grace in our world was, for me, always a satisfying – if not always successful – pursuit. But the joy came in being able to share some of these sacred moments with others. It is one of the few ways in which I think we can honestly share with each other how we see the world.
As I understand it this is a column dedicated to the importance of theological reflection and ministerial formation, not my attempts at being an artist. Yet as I left the darkroom and started going through seminary and on into ministry, I find myself learning how much the two vocations have in common, and how much they can aid one another.
As Christians, we also have a message to share, we are called to call out and critique the world when it fails to meet the standards of the kingdom, when there is injustice in our cities and towns. We also have stories to tell. Not just the gospel that we hear every Sunday, but also the stories of how God is active in our lives and in our parishes. And we have a duty to share this good news with those both inside and outside the church. I can think of no better way to tell our tale, to challenge ourselves, than through the arts.
And I firmly believe that the artistic task is one that lays the core of, not only being Christian, but being human. We are formed in the image of the God who, in the beginning, creates. The prophets were masters of performance. Jesus, a carpenter, was also an artisan. The heavenly Jerusalem at the end of time would certainly bring joy to an architect or urban planner. This task of capturing and reflecting the beauty of God is one that we carry in our very beings.
Much of my seminary experience was spent pouring over texts new and old, learning about who God is and where we as Christians come from. But as I continue further on in ministry, I find myself dusting off the photographer's "tool kit" in trying to find where God is active amongst us today, and in being able to share and name it with others. When I started my schooling, I saw the role of minister very much as a scholarly one; but with time, I am only now starting to appreciate the minister as artist, working with a paint brush that touches both the now and the not yet.