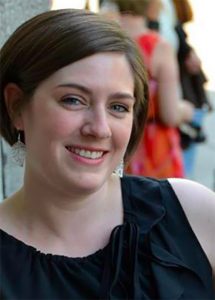 The Rev. Jennifer Bourque first came to Dio for the original incarnation of the Montreal Mission Internship, and then returned a year later as a full-fledged student. She was ordained deacon (2008) and priest (2009) in the Diocese of Montreal. Since graduation, Jen has served as a spiritual care professional (chaplain) at the Montreal Children's Hospital, and currently works with parents of infants in the neonatal intensive care unit, as well as other children, families and staff throughout the hospital. She loves the interdisciplinary work of hospital chaplaincy, and has continued training in Clinical Pastoral Education since leaving Dio.
---
About this time last year, I found myself on a quest to find out about haircuts for newborns. I quizzed parents, nurses, hospital staff, friends and yes, hairdressers. I didn't know anything, really, about haircuts, other than how to arrange to have my own cut. I certainly never learnt anything about this in my studies!
I'm the chaplain in the neonatal intensive care unit at the Children's, and there, I'm asked to arrange for or preside at baptisms, blessing and other sorts of rites for newborns. Over the course of a few weeks, I had met a number of families who wanted to shave their babies' hair. They explained to me that, in some Muslim communities, babies' heads shaved in the first few days of life, and, parents then make a donation to charity. It follows a Sunnah of the Prophet Mohammed, and it's a way, several families told me, of giving thanks for the child's birth, and, out of their gratitude, giving back to those in need.
I learnt a lot of these parents, from the staff in the NICU, from some of the interpreters who know the South Asian community well. Eventually, someone told me about a barber, who they promised could help. I leant even more from these parents about how, in their tradition, they wanted to welcome their babies, and give thanks to God for such a marvellous gift. Despite—and, perhaps, sometimes, because of—our religious differences, I was able to hear their hopes and fears for their children. I was also welcomed to witness their way of living through a hospital stay grounded in their own beliefs, and faithful to the practices of their tradition.
I had left Dio several years earlier feeling that I had been formed to do that sort of work—as a pastor, journeying alongside God's people in all sorts of situations. I felt that I had been formed in the spiritual riches of our tradition, and I had been given, time after time after time, the chance learn from the people I met in parishes, in hospital and in all sorts of other places.
I also find myself—perhaps more than anything, given my ministry now, at the Children's—grateful for experience of being formed as a priest in the ecumenical and interfaith world of Montreal School of Theology and McGill. At the hospital, I meet families from all sorts of religious traditions, and from no religious traditions at all. I might help a Muslim family find prayer space, discuss Shabbat observance, hear of someone's deepest hopes and fears, anoint the sick and baptize an infant, all in the course of a day or a week. I constantly meet people whose religious and cultural traditions are new to me.
I'm grateful that, during my training, I studied and worked alongside Anglican postulants as well as candidates for ministry in other denomination, and the whole diversity of McGill's student body. I prayed the offices and recited the psalms in St. Luke's chapel knowing that others were turning to Mecca and reading the Quran. I shared office space with McGill students whose commitments as Jews or Buddhists informed their scholarship, just as my belief in Jesus informed mine. I prayed alongside my classmates, and heard many of my professors preach. In short, I was able to deepen my roots in the Anglican way of being Christian, while also walking alongside those whose beliefs and practices were very different from my own. Now, as a hospital chaplain, I have the great joy of a similar experience, as I journey, however briefly, with children and their families, and hear their stories of love, of fear and of faith.