A Farewell from the Rev. Dr. Donald Boisvert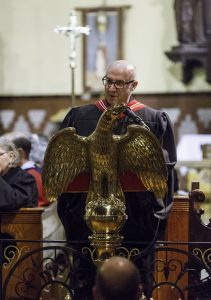 These words are the last that I shall write during my brief tenure as Principal of the College. Recently, I announced my resignation for personal reasons. I am grateful for the many expressions of support and understanding. But I do want to say that this decision—one certainly not taken lightly—has provided me with an opportunity to reflect more deeply on how God can work in our lives. I have had a long career, academically and administratively. I came to Dio fully cognizant and prepared to complete my mandate. Along the way, however, I stumbled upon the unexpected realization that I was being "pushed" in some other direction, that I needed to reclaim parts of my life that had been neglected for far too long. That I needed to fall in love again with those things that still matter most to me. It can be a little unnerving to realize that the Spirit can still surprise us in this way. I certainly was surprised. But as Scripture puts it, "To everything there is a season." This is now, for me, the beginning of another season of grace.
I have been asking myself how best to convey my sense of what these past months have meant to me. I should therefore like to quote from the statement announcing my resignation:
"This will have been a richly rewarding and satisfying year for me. As an alum of the College, I have felt especially fortunate in serving my alma mater in this capacity. I have tried to do so diligently, and I am deeply grateful to everyone, but especially to the students and to my colleagues at the College, for their selfless support and cooperation.
"Together, we will have accomplished some critically important things these past months. We have a new vision and mission statement and an action plan to implement it. We have begun addressing some of the financial challenges that confront us. With our ecumenical partners, we have solidified our future relations with McGill's new School of Religious Studies. I can honestly state that Dio is now better known and understood within our diocese than it was in past years.
"I believe passionately in the College's strong and lively commitment to theological education and the viability of its short- and long-term future. I also know that I remain deeply committed to Dio, and that I fully intend to continue to make that commitment a reality in the years to come."
My whole-hearted gratitude to one and all for this privilege which has been mine.