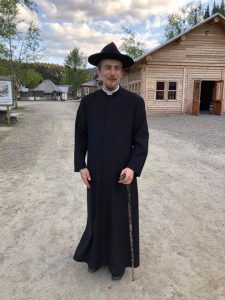 This past summer, Ben Stuchbery worked as the student minister at St. Saviour's Anglican Church in Barkerville, BC. This is a seasonal ministry of the Territory of the People.
"In 1868, Rev. James Reynard was ordained a priest at Christ Church Cathedral, Victoria, by bishop George Hills on one condition: that Reynard agree to go to the town of Barkerville in the Cariboo mountains of north central British Columbia, one of a chain of central BC  towns which emerged during the gold rush of the 1860s. Following a substantial find by the town's namesake, Billy Barker, miners poured in, followed closely by merchants and missionaries. Buildings were erected hastily in a matter of weeks.
Reynard agreed to the bishop's condition. When he arrived with his wife, Mary, and their children, Barkerville was not yet 10 years old. Reynard's task was to start an Anglican mission, a vital piece of which was the construction of a church building. He was to do so with no support from his bishop, who viewed the Reynards as a necessary sacrifice for the good reputation of the Anglican Church. Unable to find volunteers to build his church, Reynard built it himself with the help of his two young boys. It took them 10 months. Barkerville was graced with a beautiful neo-gothic board and batten structure christened St. Saviour's at its consecration in September 1870. Despite the support of the establishment figures in Barkerville, few people attended Anglican services, the miners seeming to prefer the Methodist minister. The Reynards left Barkerville in1871, leaving a remarkable church structure with few congregants.
There wouldn't be another Anglican priest in town until 1893, but during the intervening years, the community took an interest in St. Saviour's. The church flourished as a lay-led, ecumenical worshipping community. James Stone, a layman and the community postmaster, led the daily offices and presided at weddings and funerals.
In 1958, Barkerville was purchased by the province of British Columbia and has since operated as a living history museum. St. Saviour's remains in the hands of the Territory of the People (former Diocese of Cariboo). For decades, it  has served as a training site for theological students, who have full responsibility: officiating at three services daily, preaching, keeping accounts, overseeing the building, being a pastoral presence on site, and interpreting the character of Rev. Reynard. I had the distinct pleasure of being that student this past summer. It was an immensely valuable learning experience, very much a crash-course in being a parish priest!
After leaving Barkerville, James Reynard moved his family to Nanaimo where he served as rector of St. Paul's Anglican Church. There he started a brass band which continues to this day. Reynard, who was just 45 when he died in 1875 of a brain tumor, is perhaps best remembered by these words from his journal:  "I am not afraid of poverty or of labour, but I am afraid of doing less than my all, or of offering to God that which costs me as little as possible."