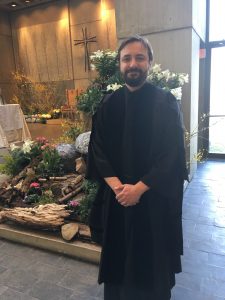 First year Master of Divinity student Bram Kranichfeld writes:
As I reflect on my first semester at Montreal Dio during this season of Thanksgiving, I am struck by the many blessings I have received and just how grateful I am to have the privilege of participating in this wonderful program. I entered Dio roughly two years into a formal discernment process in the Episcopal Diocese of Vermont. I applied here partly due to Dio's excellent reputation and partly due to its proximity to my home in Vermont.
To say that this has been a transition is an understatement! I had a fairly settled life in Burlington, where I had been living for thirteen years. I had been a practicing lawyer since 2005, most of that time as a criminal prosecutor. I have two young children enrolled in school in Burlington, and my wife is firmly rooted there as a teacher. Moving my family was not a viable option. So, unsurprisingly, the biggest challenge for me and my family this semester has been adjusting to our separation during the week. I commute into Montreal every Monday morning and back to Burlington every Friday afternoon. With God's help, we have found our weekly rhythm and this transition is falling into place.
And I thank God for my wife's support and that our family is adjusting, because the program and community here at Dio are so wonderful. Every day here resonates with this calling and aids this part of my discernment. I believe that the Church and its priests, at their best, create and sustain a faith community through sacramental worship, engagement with the scripture, and modeling inclusion and social justice. I have found that the program and community here at Montreal Dio provide an abundance of instruction and nourishment for all three of these.
First, the strength of the academic program here is phenomenal. The integrated bachelor's program gives us full access to McGill University and its world class faculty and courses. I am consistently amazed by the level of work we are doing. For example, as I write this roughly eight weeks into the program, this morning I was able to translate a portion of Revelation in our Ancient Greek course, something I would not have believed I would be capable of before coming here. Second, Dio has a robust and dynamic chapel life which offers a wonderful opportunity to engage and learn different types of services and sacramental worship. Praying and worshiping every day with our friends and colleagues lends a special energy and immediacy to our chapel life which I truly appreciate. Finally, the faculty and students in Dio comprise a warm, supportive, and tight-knit community. And for as small a group as we are, it is broadly diverse, including people from vastly different places and backgrounds. I immediately felt welcome here and am so grateful for my colleagues and instructors.
In short, I feel blessed to be here. What I have found in Dio is a tight knit, caring, dedicated group of scholars, theologians and, above all, aspiring ministers. My time here thus far has strengthened for me this calling and greatly aided in my discernment. And for that, I am truly grateful.