Meets monthly on the third Monday of the month, October 2023 through May 2024, 7:00pm to 8:30pm on Zoom.


This French discussion group is intended for non-native speakers of French who wish to improve their ability to speak about and reflect on Christianity, church, spirituality, and more in the French language.
These meetings will take place October through May on the third Monday of the month from 7pm to 8:30pm. Before each session, the facilitator will distribute materials in French that will help start off the conversation. These may be articles or other texts, a video, or a podcast. Participants are expected to review the material in advance of each session.
This course is designed primarily for those who have completed the Certificate in Bilingual Ministry program. However, it is open to others as well who have an intermediate or higher level of French.
If you have not completed the Certificate program and are interested in participating in this discussion group, please apply and then schedule a brief conversation with the facilitator via Zoom to confirm your level of French. Those who already have a Certificate in Bilingual Ministry may register now without scheduling a meeting.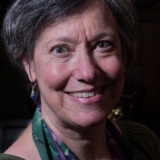 Facilitator: Clara Maranzano was born in Argentina and studied French in the Alliance Française where she earned a diploma in French as a second language teacher awarded by the Ministry of Education from France. She also worked as a French-Spanish translator. Clara and her family immigrated to Quebec in 2008 and since then she has earned a B.A. in Translation (English to French) from Concordia University, a B. Th. from McGill University, and a M. Div. from the Presbyterian College. Her passion for the Gospel and theology together with her language teaching skills led her to work first in the bilingual program offered by the United Church and now in the context of Montreal Dio.
FEE
$325/for full year
$125/for fall semester
$200/for winter semester