This course is centered around enhancing French linguistic and communication skills for pastoral contexts. This includes grammar revision, the sharing of French resources such as church and biblical vocabulary, preparation of prayers, and role playing pastoral care situations. Participants may take this course as part of the Certificate in Bilingual Ministry or as a stand-alone continuing education course. At the end of the week, there is an oral and written test leading to the Certificate in Bilingual Ministry for those enrolled in the certificate program.
All applicants should take a French level test (oral and written) during the academic year in order to confirm their language skills (intermediate, at least) or to discuss with our French teacher the best way to prepare for the intensive week if they do not yet have the required level.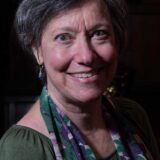 Instructor: Clara Maranzano was born in Argentina and studied French in the Alliance Française where she earned a diploma in French as a second language teacher awarded by the Ministry of Education from France. She also worked as a French-Spanish translator. Clara and her family immigrated to Quebec in 2008 and since then she has earned a B.A. in Translation (English to French) from Concordia University, a B. Th. from McGill University, and a M. Div. from the Presbyterian College. Her passion for the Gospel and theology together with her language teaching skills led her to work first in the bilingual program offered by the United Church and now in the context of Montreal Dio.
FEES
$500 for the course plus a $150 assessment fee and a $150 final evaluation fee (only candidates for the Certificate in Bilingual Ministry pay this fee).
ACCOMMODATION
Students from outside Montreal are expected to find their own living accommodations. The Presbyterian College right next to Montreal Dio rents out its residence rooms for a reasonable price during the summer. You can find out more here.
MORE INFORMATION AND REGISTRATION