Wednesdays, January 10th-February 28th, March 13-April 3rd, 2023, online, 1:30 to 4:30 pm Eastern Time

This course offers an overview of the history and theological values and convictions of the United Church from its origins to the present. It will support learners to  
Describe key events and turning points in the formation and history of the United Church of Canada.

 

Describe the theological commitments and beliefs of the United Church from its formation to the present.

 

Apply the United Church of Canada's understanding of authority of scripture and a historical-critical approach to Biblical interpretation to pastoral ministry.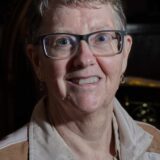 Instructor: The Rev. Dr. Alyson Huntly is the director of United Church Studies at Montreal Dio. As a Diaconal Minister in the United Church of Canada, Alyson has served in ministries of education, pastoral leadership, and social justice within the United Church of Canada, in community development, and internationally. Prior to coming to Montreal, she was in congregational ministry in Ottawa while finishing her Ph.D.
LANGUAGE
This course will be taught in English, with support and resources for Francophone students.
MORE INFORMATION AND REGISTRATION