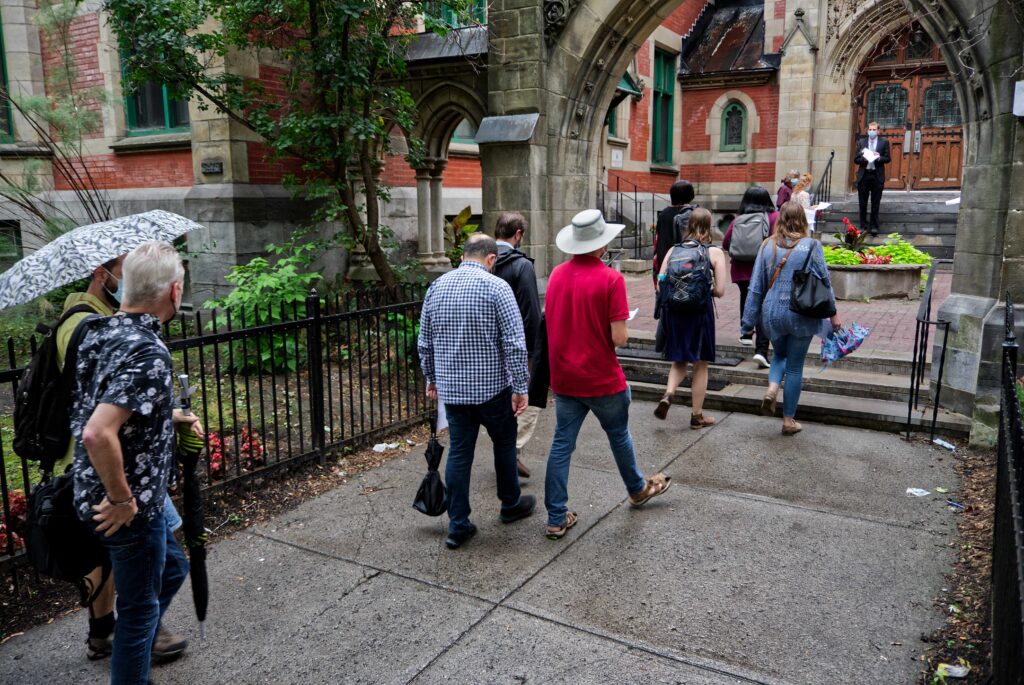 A new school year in Montreal brings with it a new strategic alliance between Montreal Dio and the United Theological College—and to mark the new relationship, members of the two colleges gathered in prayer and song to remember and give thanks for one building and move together to a new one.
Last Wednesday, the college communities began the regular mid-week community worship service by gathering outside the former UTC building at 3521 University Street. Angelika Piché, la directrice de la formation en français, provided an opportunity for the community to share memories of the building and give thanks for the time there. She highlighted a passage from the day's psalm: "The Lord shall watch over your going out and your coming in, from this time forth forevermore." (Psalm 121:8)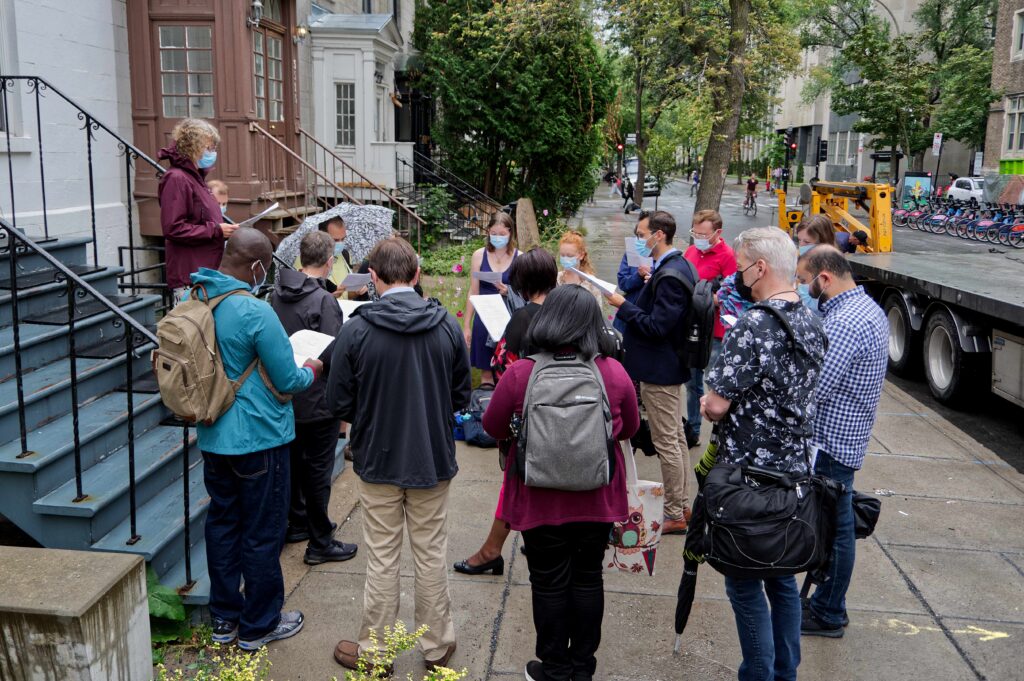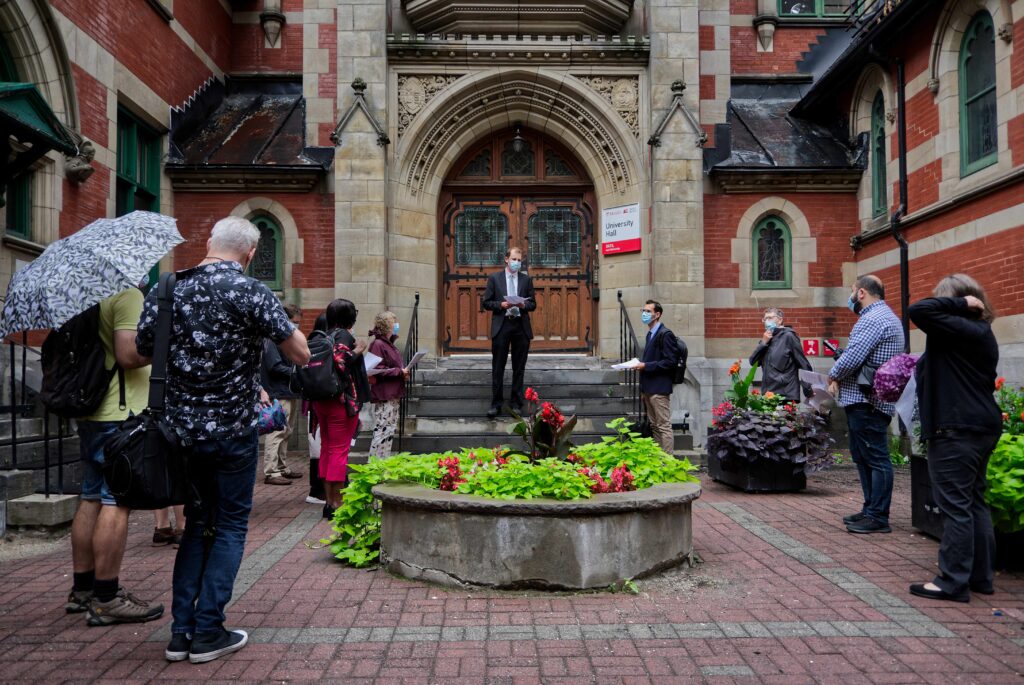 The whole community then marched as one down University to Dio's building. In his welcome, Principal Jesse Zink noted that this is in fact the third time the two colleges have shared space. During World War II, the RCAF took over UTC's old home at the corner of Milton and University and UTC students moved into Dio. Then, in 1965, UTC sold that building to McGill and moved into Dio again, this time for nearly a decade. Principal Zink noted that it was therefore appropriate to say not "welcome" but "welcome back."
In January 2021, Dio and UTC announced a strategic alliance under which UTC sold its building and moved into Dio. The two colleges are undertaking a joint strategic planning process in which they are exploring and planning for a combined college in Montreal serving students from Anglican, United, and other denominational backgrounds and continuing to work in collaboration with The Presbyterian College and McGill University, as they have for over a century.
At Dio, Angelika Piché also offered a reflection on Psalm 121 and John 17:21. She emphasized the significance of the John passage, explaining that it is featured on the United Church crest and that it should also serve as a guiding principle as Dio and UTC move forward together. "May they all be one. As you, Father, are in me and I am in you, may they also be in us, so that the world may believe that you have sent me." Those, she said, are fitting words with which to begin a new chapter for Dio and UTC, one that emphasizes ecumenism and unity.
The service concluded with a litany of prayer and commitment led by a UTC student and a Dio student in English and French. Together, the students and faculty committed to "work together for compassion, peace, and justice as one community".
As always, the Wednesday mid-week service was followed by lunch. This year, due to public health restrictions and the enlarged size of the community, people need to spread out around the building to keep the proper distance—while also breaking bread and getting to know one another better.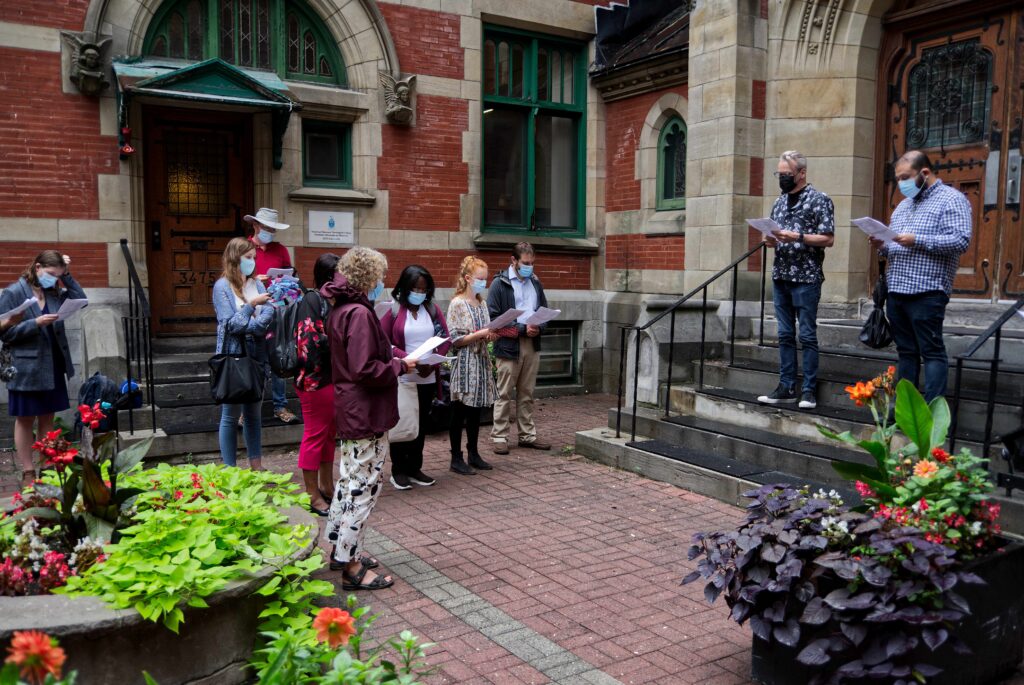 More information about the strategic alliance between the two colleges is available here.