At its annual Convocation on Monday, May 3—held online due to the pandemic—Montreal Diocesan Theological College conferred an honorary Doctor of Divinity degree on Elizabeth May, O.C., MP.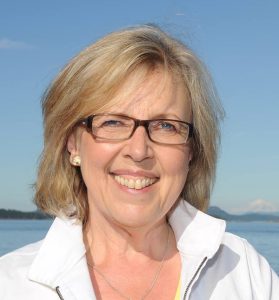 Ms. May is a Member of Parliament for Sannitch-Gulf Islands and former leader (and current parliamentary leader) of the Green Party of Canada. She has had a long career as a lawyer and environmental activist. She is also an Anglican who has, in the past, considered studying for the priesthood. In the degree citation, the college recognized Ms. May's "consistent, patient, and forthright living of her baptismal calling to proclaim the Christian gospel" in her public and political career.
In her Convocation address, Ms. May said that her Christian faith sustains her in her work in Parliament: "Here we are in a time of plague and fire and famine and drought and insect infestation—it's a tremendous challenge on the science to whether we can save ourselves. It's for that that I am so grateful to faith for believing that we can do the impossible, that we have a chance, that we have a prayer."
She pointed to the diversity of religious leaders who have made climate action a significant focus of their leadership. She recalled being inspired by an address then-Archbishop of Canterbury Rowan Williams gave at the 2009 Copenhagen Conference in which he argued that Christians have a "preferential option for the earth" that is the same as the "preferential option for the poor."
Ms. May quoted from the work of the economist E.F. Schumacher, who is best known for his 1973 book Small is Beautiful: Economics as if People Mattered. She read from his later book, A Guide for the Perplexed. Schumacher wrote: "Modern industry by producing comfort on a scale unheard of in human history, yet almost destroying the real educational function of daily work quite clearly sets the most difficult examination task: how not to lose sight of the spiritual in the face of these overwhelming temptations." Later he wrote, "This does not mean that we can wash our hands of this worldly failure for only those can triumph who never cease for a moment, no matter what the odds are against them, to fight evil and try to restore order."
Words like those, Ms. May said, offered her the drive and determination to carry on her work: "You have to keep trying, don't you, you have to keep fighting, you have to know that the task set is for the individual souls of each and every one of us, for the well-being, yes, for the saving of this miraculous, miraculous planet."
The complete Convocation address is available for viewing.
Ms. May concluded by quoting a passage of Scripture that she says she recalls on a daily basis: "Now to him who by the power at work within us is able to accomplish abundantly far more than all we can ask or imagine" (Ephesians 3:20).
During the Convocation service, the college graduated eight students from its various programs and recognized student achievement with a range of awards and prizes. It was, Principal Jesse Zink noted in his opening remarks, a year unlike any other in the 150-year history of the college but one in which the integrity of the community and its worship life remained in place and students were able to continue to learn and grow as Christian leaders for the church and world.