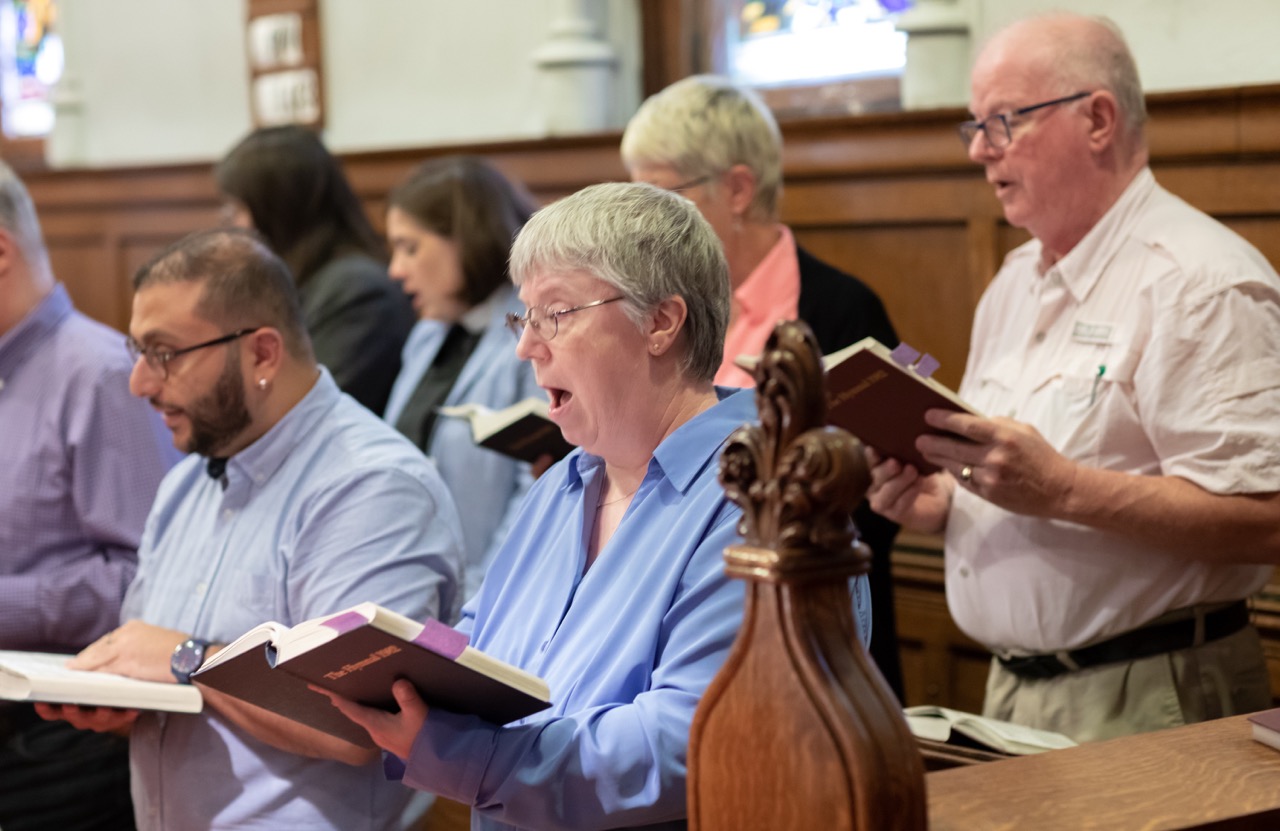 The college community has had a full and active fall semester as we learn and grow together in Christ.
The year began with a retreat in the Laurentian Mountains north of Montreal. The Rt. Rev. Gordon Scruton, retired bishop of Western Massachusetts, led the community in reflecting on the theme, "Spiritual Practices for Sustainable Ministry." Over the weekend, students were introduced to new prayer practices and offered a chance to reflect on how to manage the demands and pressures of ministry in a changing world and church. There was also plenty of time for swimming, boating, and singing, including our Saturday afternoon "Happy Hour Hymn Sing," where we worked on our ability to "sing a new song unto the Lord" a capella.
We gathered in later September for a picnic to get to know the spouses and families who support our students throughout the week but aren't always able to join us at the college. This year we have about 15 children under the age of 8 in the college community and it was a delight to watch them form new friendships with one another.
The college has hosted a number of workshops and training days that have brought a growing number of people through our doors, both physically and virtually. In September, the principal led an online webinar reviewing what happened at General Synod in July 2019 in Vancouver. In October, the Rev. Dr. Richard Topping of the Vancouver School of Theology led a two-day preaching workshop for students, clergy, and lay leaders. In November, the Rev. Dr. Hilary Bogert-Winkler and the Rev. Jen Bourque led a workshop on ministry and pastoral care with children. Elsewhere in this newsletter, you can read more about other events—both online and in person—that are planned for the winter semester.
Following the success of last year's online course on the Gospel of Luke, this year we have launched a follow-up class on the Gospel of Matthew. Titled "Disciples of Jesus: Learning from Matthew," the non-credit course is an introduction to the key themes of the gospel in advance of a new lectionary year in the life of the church. Dr. Bogert-Winkler is teaching the course, which this year is drawing students from more dioceses and more time zones in the U.S. and Canada than ever before. Parishes are gathering as groups to participate in the course together and then discuss the topics further afterwards. Stay tuned for a similar online course in the winter, as well as a follow-up study day on leading a Bible study on the Gospel of Matthew during Lent 2020.
In early November, the college community joined with our partner colleges and the McGill School of Religious Studies to celebrate the scholarship of Douglas John Hall with a three-day colloquium entitled "Christian Theology after Christendom." Prof. Hall is one of Canada's leading theologians and for many years taught at McGill.
All of our activity and common life is undergirded by our daily worship life in St. Luke's Chapel. Our weekly community Eucharists on Wednesday are particular high points of each week and allow a variety of visiting celebrants to lead us in worship. This semester, some noteworthy visitors include the Rt. Rev. James Almasi, Bishop of Masasi in the Diocese of Tanzania; the Rev. Canon Jeffrey Metcalfe, canon theologian of the Diocese of Quebec; and many others who have traveled great distances to be with us and who sustain us with their prayers.