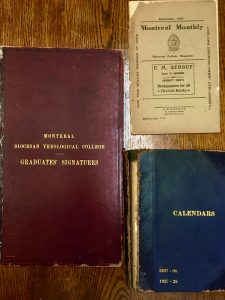 Montreal, September, 1904. Vol. XII, no.8 of the Montreal Monthly Magazine – a publication of Diocesan College — included advertisements for numerous products and services of interest to students and clergyman.  
Along St. Catherine Street alone, Thomas Liggett offered carpets and furnishing for both church and home; students enjoyed special rates at P.J. Gordon Photographer but could also head to Dennison's; and G.H. Featherstone had a range of gymnasium shoes, reindeer slippers, Indian moccasins and fine footwear. 
You could get a shave or a haircut at Frank V. Hick's; and hairdressing and a face massage at Saml. Tarranic – not to mention fruits, candies and sodas (hot and cold) at G. Nicholas & Co, everything for the sick room at Scarff's Pharmacy – and pianos and organs at Willis & Co. Willis & Co. was founded in 1877 by Alexander Parker Willis, a board member and benefactor of Dio, and originally sold sewing machines.  
In addition to more than a dozen pages of ads, some featuring simple but fine illustrations, the black and white publication included an editorial (likely by editor-in-chief Rev. F.A. Pratt, who had graduated from Dio 10 years earlier) and three articles:  The Social Teaching of Jesus-Christ (by Rev. N.A.F. Bourne, an 1887 Dio grad), an Autumn visit to Whitier's Birthplace (by Kathrine Weller) and Success with Truth (by  Wm. Joseph Galleyer). It cost 10 cents for one issue and a dollar for an annual subscription.  
The single copy of the September issue is among the many documents preserved at the college today that provides a fascinating window on Dio's history and that of the city growing around it, and it came to light during the course of a project to document Dio alumni in a comprehensive way. 
In the winter and spring of this year, with the expertise and effort of McGill Information Studies student Deniz Çevik and the generous collaboration of Sandra Koukou at the Synod archives, a database of graduates began to take shape, with the initial goal of going back to 1950. There were obvious challenges, not the least of which were changes in record keeping and storing practices over the years. Deniz pored through old Board minutes, convocation booklets, alumni association documents and student files and entered all the validated information into a user-friendly database. All existing files of graduates have been grouped together alphabetically, and each file clearly indicates the graduation year and diploma received.  
In an effort to put order into other files stored in Dio's attic over the summer, I unearthed some additional treasures including a scrapbook of convocation booklets covering 1900 to 1973  — and correspondence indicating that, for many years, the college calendar listed all graduates. Fortunately, copies of many old Dio calendars were in a box under calendars of the Faculty of Religious Studies at McGill.  
All these sources combined have allowed us to create a picture of Dio graduates – some 750 since the first – that is much more complete than we had expected or hoped. (Well, there are a few gaps conflicts and contradictions, but what is history without some mystery?) 
Among other archival documents that surfaced were a package of completed applications from the late 19th century, mailed to the college at 896 Dorchester Street, most filled out in exquisite script. Applicants were asked, among other pertinent questions, "Do you use Tobacco in any form" and "Are you a Total Abstainer from Intoxicating Drinks".  Only a handful of applicants admitted to an occasional smoke or drink. One admitted to being a smoker but promised to refrain while at college, while another wrote, regarding alcohol, "Do not use it except by doctor's direction." 
With a view to Dio's 150th anniversary in 2023, we hope to find a way to showcase these irreplaceable documents so that graduates and friends of the college will be able to appreciate them.  
If you graduated from Dio after 2008, we want to draw your attention to the Graduates' Signature book, first signed by Dio's original graduate, A. Archibald (College Testamur, LTh) in 1874. When the college buildings on University were sold to McGill and the college moved into the former Principal's residence, the signature book was misplaced. Although it has resurfaced intact, we are only now reinstituting the practice of having graduates sign it. For now, e will pencil in the names of graduates from 2009 through 2019 and hope that you will stop by and sign in person someday soon. In the meantime, consider practicing your penmanship!