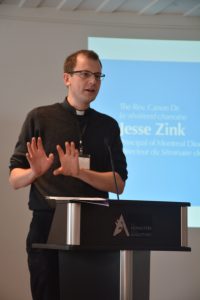 Dear friends, 
One of the Bible passages that was important to our community this year was Jesus' teaching about the vine and branches in John 15. It is here, famously, that Jesus says, "I am the vine, you are the branches." When we introduced students to the practice of Gospel-based discipleship at our opening retreat in September, this was the passage we used. We revisited it when we gathered again as a community in January for a new semester. And it was the passage we used at our final worship service of the year when we gathered—necessarily online—for a final session of Gospel-based discipleship. 
Each time we studied this passage, I found myself struck by a verse towards the end of the passage. Jesus says to his followers, "You did not choose me but I chose you. And I appointed you to go and bear fruit, fruit that will last" (15:16). It is, frankly, an odd thing to say. Jesus, I want to say, fruit isn't meant to last! It spoils. It's made to be consumed. In my house, at certain times of year, we  sometimes encounter the happy challenge of consuming all the fruit we buy before it goes off.   
Jesus' words about lasting can seem to sit awkwardly with the rapidly changing reality of the church and world. In the span of days and weeks this spring, many congregations shifted their worship and common life entirely online. They adopted new liturgies and ways of praying together. As the Covid-19 pandemic drags on, cancelling countless in-person events, serious questions are being asked about the future of Christian worship. There is a giant question mark over sacramental practice, long seen as so central to Anglican identity, as we think about what baptism or Eucharist looks like in a physically distant and virtual world.   
Even before the pandemic, churches across North America were facing serious challenges. A recent report from the Anglican Church of Canada concluded that if present trends continue, there will be no more Anglicans left in Canada by 2040. The conclusion may have been somewhat hyperbolic, but the trend lines were not. The "new normal" that results from the pandemic will almost certainly increase financial and other pressures on churches, even as it may open new spiritual horizons to some who had previously been only on the margins of the church. The college is not immune to these pressures. Even with the increased student body and expanded fundraising of recent years, we continue to face serious questions about our long-term viability, and we continue to explore creative directions for the future. In the midst of these existential questions, it is easy to let our focus drift from "lasting" and spend more time thinking about how we can just make it to the next day.   
On its own, neither the church nor the college can make itself last, anymore than a blueberry bush can prevent its fruit from rotting. As I read this passage over the course of the year, I increasingly found myself hearing Jesus speaking to and about the college. Just like individual believers, the college is meant to be grafted onto the true vine that is Christ. When the college abides in Christ and helps people grow as disciples, it is a place where God is glorified (15:8). Like people, the college can wither if its connection with Christ is not strong (15:6). The college is a place where we seek to fulfill Christ's command to love another (15:12).   
If we hear Jesus speaking to and about the college in this passage, then the fruit of the college are the students who in this season of their lives allow themselves to be pruned, experience new growth, mature in their faith, and become people who deeply love the world in which God has placed them. The "fruit that will last" is not the college itself but the students who go out into the world in ministry and mission in ways that are faithful, creative, and—dare I say—fruitful. 
The past year has been unprecedented for the college, as it has for all of us. The pandemic was and continues to be a giant shock to the system that leaves us all searching for what the "new normal" will look like. But as we find new ways of working together and abiding in Christ, I find myself giving thanks that God is raising up in this college community precisely the kind of leaders the church and world need at this time. These students are engaging their whole selves in this season of formation and growth. They are well placed to be fruitful and lasting leaders in the church.  
This pandemic will have lasting consequences for the church and for the world. I see in this college great seeds of hope for ministries that will help the church continue to be a fruitful and lasting agent of God's word in the world.  
Faithfully yours in Christ,   
Jesse Zink 
Principal
This article is part of our 2019-2020 Year in Review publication. If you would like a printed copy, drop us a line at [email protected].