Long before Zoom church was required, Dio was using the platform to deliver adult education for congregations across North America, including one-off webinars on topics such as the Gospel of John and multi-week courses on the Gospel of Matthew, Reconciliation and other topics.
The Rev. Canon Jeffrey Metcalfe is canon theologian of the Diocese of Quebec and interim priest in charge at Église St. Michael's Church. He led groups through the courses on Matthew and Reconciliation and offers this reflection.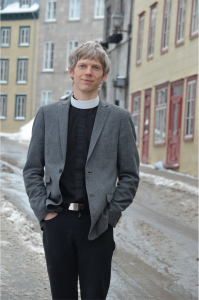 I'll admit it, I am a digital skeptic, especially when it comes to church. Social media and on-line content may be trending, but it is difficult to replace the face-to-face relationships that have animated evangelism and discipleship formation for the last 2000 years. Moreover, in a rush to move online, I worry that churches run the risk of mistaking the delivery of content with the content itself. 
So it was with some trepidation that I decided to host one of Dio's online learning courses on the Gospel of Matthew. Ever the doubting Thomas, as I set up a ring of chairs around a large computer screen placed in our sanctuary, I thought to myself, "Until I see the professor teaching, and hear the group learning through our discussions, I will not believe."    
At last our group of eight arrived and nervously shuffled to their chairs. Suddenly, Dr. Hilary Bogert-Winkler appeared on the screen in front of us and began to teach. Rather than awkward, her online classroom presence immediately put the room at ease. Her presentation on Matthew was wonderfully accessible and theologically rich. She welcomed questions—even difficult ones—and honoured voices that might otherwise be dismissed. Perhaps best of all, the questions she asked at the end of each session not only primed our groups' post-presentation discussion, they pushed us to think about how Matthew's Gospel might better shape our church community's practices of evangelism and discipleship formation.  
My doubt about online learning was transformed by this experience. When the next online course on the theology of reconciliation was announced by Dio, I signed up and had a similarly convincing encounter.  
I am excited to see what's offered next because Dio's online learning helped to better deliver content that would otherwise be inaccessible to many of us. I live in a predominantly rural diocese. Not everyone has the financial resources, the personal mobility, or the inclination to move to an urban centre where they can take a course on the Gospel of Matthew. Now they don't have to. Dio's online learning makes this knowledge more accessible, and that is a great gift to the church as it continues to discover how to engage in faithful discipleship in a digital age.  
This article is part of our 2019-2020 Year in Review publication. If you would like a printed copy, drop us a line at [email protected].