Cliquez ici pour la version française.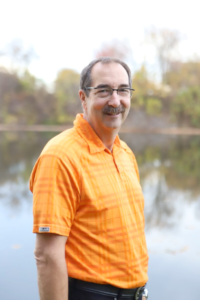 The Montreal School of Theology is pleased to announce the appointment of the Rev. Dr. Marc Potvin as the new Director of Field Education. 
Dr. Potvin was born in Montreal and raised in the St. Leonard borough of the city. After graduating from Royal Roads Military College and serving in the military, he obtained a Master of Divinity degree from Acadia Divinity College in Nova Scotia and served for a decade as a military chaplain in Ontario, Quebec, and Nova Scotia. He has also served in congregational ministry in Nova Scotia and Sherbrooke, Quebec. In 2012, he obtained a Doctor of Ministry degree from Acadia where his research focused on mentored ministry and field education. 
Dr. Potvin currently serves as Pastoral Leaders Development Associate for the Canadian Baptists of Ontario and Quebec. In that role, he works extensively on training and forming new clergy for ministry in the church. He is a respected leader in the church for his faithfulness, his generosity, his openness, and his commitment to exploring new forms of church. 
"I am so pleased to welcome Marc back to Montreal," said the Rev. Dr. Jesse Zink, director of the Montreal School of Theology. "His experience, skills, and passion will bring so much to us as we continue to renew the field education component of our degree programs." 
Commenting on his appointment, Dr. Potvin said: "I look forward to this new ministry chapter. Gathering my years of varied experience and accumulated knowledge I have a unique opportunity to bring field education in Montreal to a new level of excellence, allowing MST to be a standout seminary and preparing new ministry leaders for today's and tomorrow's church." 
The Director of Field Education position in the Montreal School of Theology is part of a larger grant from the Lilly Endowment in the United States that is helping MST identity, prepare, and support pastoral leaders for ministry in a changing church and world. Dr. Potvin will replace the Rev. Dr. Heather McCance who was appointed president of the Atlantic School of Theology in summer 2023. 
The Montreal School of Theology is a consortium of theological colleges affiliated with McGill University in downtown Montreal. Its residential and distance programs prepare students in English and French for transformative ministerial leadership in the church and world. 
Dr. Potvin will begin his new role in January 2024.