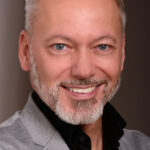 Norman Robert Boie, Master of Divinity (with Distinction)
Norman Robert grew up in a bilingual family with an American father and a French-Canadian mother. Norman was artistically gifted and religiously inclined. While he was considering joining a Roman Catholic religious order in his late teens, he finished a Bachelor's in Education at McGill University. In his twenties, he taught in the public and private Quebec school system. In 1991, he auditioned for Montreal's production of Les Misérables and embarked on a career in the performing arts. In 2001, he started a career in television, first as a manager and then as a TV producer. In 2017, he left the TV industry to follow a call to ministry. Norman's vision for ministry is to communicate God's unconditional love for all of humanity and creation for today's context.
"In the last five years, I have learned much about religion and explored theology from many diverse angles. In doing so, I have deepened my faith and beliefs, and have integrated skills and knowledge gleaned from previous life experiences. I am ready to serve and go wherever the Spirit is calling."
Bram Kranichfeld, Master of Divinity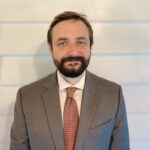 Bram grew up in New York. After college in Chicago and law school in Ithaca, Bram worked as a lawyer in various roles, mostly as a criminal prosecutor. Bram worked as a county prosecutor in Burlington, Vermont and led the Criminal Division of the Vermont Attorney General's Office in Montpelier. Bram also served a term on the Burlington City Council. Mid-career, Bram began discerning for ordained ministry in the Vermont Episcopal Church, which led him eventually to enroll in the M.Div. program at Montreal Dio. Bram lives in Burlington with his wife, Erin, and their two children. Bram hopes to be ordained soon as a transitional deacon in the Vermont Episcopal Church.
"I have learned how important community is to ministry. Even through the pandemic, the Dio community was warm, welcoming, and tightly knit. Knowing I could always rely on my peers was really important."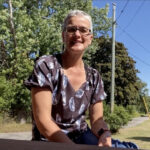 Priscilla Geisterfer, Diploma in Ministry (with Distinction)
Since 2000, Priscilla has been working in the context of spiritual formation for various Canadian religious institutions. Priscilla comes to this work with an MA in Biblical interpretation and several years of doctoral studies that remain incomplete. Her personal interests were rooted in breaking open complex religious wisdom and ideas in the sacred literature of Christian and Judaic foundations and making them accessible to reveal the wise guidance and love of the Creator. This work included individual spiritual counseling, group spiritual guidance, inspirational talks, and course instruction. Priscilla developed programs for teaching the spiritual foundations of Christianity as well as intensive interfaith programs emphasizing an awareness of diversity. Recently, Priscilla spent 11 years working as faith formation coordinator for United Churches in New Brunswick.
"UTC formed in me Christian leadership that was rooted in love, spiritual practice, and faith. The leader that I have become as a result, emerges from an emphasis on theological reflection in relation to all aspects of Christian community. I believe this formation is as valuable for the laity as it is for ordained members of the Church."
Jean-Philippe Dubé-Goupil, Diploma in Ministry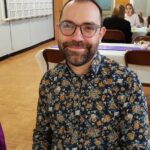 Jean-Philippe is a "jack of all trades", a specialized educator interested in theories of art. He has worked in difficult contexts and met people with criminal records, mental health issues or who are in palliative care. He believes that human beings are not limited to the mistakes of the past, no matter how serious they are. Recognizing that fact made him acquire the necessary maturity to accompany and support those around him despite our human fragility and our differing stories. As he progressed in this way of thinking, he grew interested in theology. He has come to believe that humans are first and foremost spiritual beings, and that we are inclined to reflect on the transcendent and are bound to find meaning in life. Whether we are Christians, Jews, Muslims or even atheists, we are moved by the ultimate questions. Being humans is to question what lies beyond us.
"I want to thank everyone who accompanied me through this journey. I will keep fond memories of the year we have spent together."