The college's long-standing Reading and Tutorial program continues to attract new students from across Canada and the United States. The program was entirely redesigned and updated in 2018 and 2019. It can lead to a Licentiate in Theology by distance education for students who are unable to relocate to Montreal and are discerning a call to local lay or ordained ministry. 
One of the current students is Atem Aruei Yak, a postulant for the priesthood in the Episcopal Diocese of Massachusetts. Atem told us about himself and how the program is helping him prepare for ministry.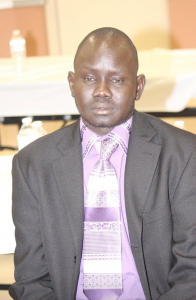 Tell us about yourself. Where are you from and where do you live now?  
My name is Atem Aruei Yak. I am a married man and I have five children, three girls and two boys. I am originally from South Sudan. My birthplace is Kongor District in Jonglei State. I left my homeland when I was about ten years old, during the civil war between the south and north regions of Sudan. In 1987, I became a refugee in Ethiopia and then in Kenya before resettling in the United States. It was while I was a refugee that I became a Christian and started my education. I am an American citizen by naturalization and now I live in Malden, Massachusetts. My sponsoring parish is Grace Episcopal Church of Everett, Massachusetts.   
Tell us about your call to ministry. How did you sense a call to ordained ministry in the church?   
I feel that I am called to be a priest because of the following qualities I have: preaching the word of God, helping other people when they need help, strong leadership skills in the church, good community service, and skill in peace making and conflict resolution. I strongly believe that I have the potential to follow God's calling, to undertake theological study, and to be a priest. Because of my commitment to God and the Church, I have the potential to take full training and to obtain a good understanding of the word of God. I hope my ministry will be the ministry of unity because I consider myself as a person who reflects racial, ethnic, cultural and theological diversity.  
What are some new insights you have gained from the reading and work you have done for the Reading and Tutorial program?
I have gained more knowledge of the Bible, about how to read it and how to preach and use the Bible in ministry. The Reading and Tutorial program has also helped me to think about how to address conflict in the church and many other things relating to leadership.  
The Reading and Tutorial program is a distance education program that lets you work at your own pace. Why is this important for you in your current life circumstances?
Distance learning is important to me because it gives me time to take care of my children and other family responsibilities. It also allows me to do other duties that need me in everyday life, such as teaching Sunday school and many other church obligations. I am thankful for the opportunity for study that this program has given me.  
This article is part of our 2019-2020 Year in Review publication. If you would like a printed copy, drop us a line at [email protected].