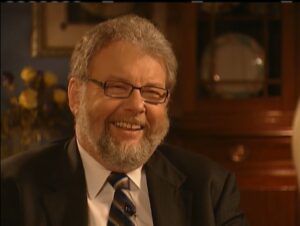 Bill Blaikie died on Saturday. Blaikie was a long-time member of Parliament for the New Democratic Party and, towards the end of his career also served in the Manitoba legislature. The obituaries I read of him highlighted his long career in politics. But an equally important part of Blaikie's life was his Christian faith. 
Blaikie had a Master of Divinity degree from Emmanuel College in Toronto and was ordained as a United Church minister when he was 27 years old. The following year he won his first election to Parliament and, to my knowledge, he never served in full-time congregational ministry. But his faith was the core conviction that drove his career in politics and he did not shy away from it. He wrote about his faith, rooted in a social gospel that understood that God's action in Christ has implications not just for individuals but our societies. After retirement he taught politics and theology at the University of Winnipeg. I was in college when he ran for the leadership of the NDP in 2003 and I remember learning he was a United Church minister. "Huh," I remember thinking. "You don't see that very often." 
In fact, however, there is a long tradition, particularly in the Prairies, of Christian ministers entering politics, often on the left side of the political spectrum. The archetypal example is Tommy Douglas, the "greatest Canadian" (so named by a CBC survey) and a Baptist minister who initiated universal health care in this country. There are many others. Jim Manley was a United Church minister in British Columbia (and also worked in a factory and in the timber industry) who served eight years in Parliament for the NDP. One of my favourite examples is Lorne Calvert, who had a successful ministry career in Saskatchewan before being elected to the provincial parliament in 1986. Calvert eventually served for nearly seven years as Saskatchewan's premier before retiring and—and this is what makes him my favourite—serving almost ten years as principal of St. Andrew's College, the United Church seminary in Saskatoon. (No doubt this was the true pinnacle of his professional career.) Blaikie was hardly alone. 
Across the Christian spectrum there are a wide variety of approaches to the relationship between one's faith and one's politics, particularly elected politics. I admit I am conflicted. To minister pastorally in a congregation requires one to be in relationship with a vast array of people. Stating political beliefs clearly can be damaging to that ministry (not to mention offend against the tax code, depending on your role). Yet the Christian faith clearly has public and political implications. Jesus was sentenced to death by a political leader. To not name these implications and act on them would not be true to the fullness of the gospel. 
So I give thanks for the life and witness of Bill Blaikie, and the rest of the social gospellers from the Prairies, for the way in which they responded to God's call to bear witness to their faith in the public square, and to do so without hiding their faith but instead being clear that this was the motivation for all that they did. May we all have the same courage of our convictions wherever our ministry takes us. 
Faithfully yours, 
Jesse Zink 
Principal 
This message was written by Jesse Zink for this week's Wingèd Ox, a weekly news digest distributed to the college community.