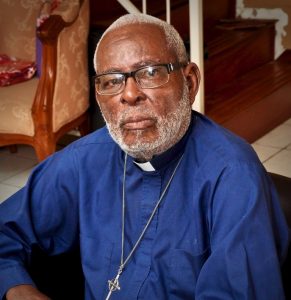 The Very Rev. Knolly Clarke, former Dean of Holy Trinity Cathedral, Port-of-Spain in the Diocese of Trinidad and Tobago, became an associate of the college in the early 1970s while he was completing first a B.Th. and then an S.T.M. at the Faculty of Religious Studies at McGill University. He writes:

I am now well into my eight decade and am a former Dean of Holy Trinity Cathedral, Port of Spain in the Diocese of Trinidad and Tobago. Even though I'm officially retired, I'm still priest in charge at Christ Church, Cascade a small parish in suburban Port-of-Spain. I love teaching and I currently lecture in Morals, Ethics and Values at the Cipriani College of Labour and Corporatives. I am also Chairman and Dean of the Sehon Goodridge Theological Society, a non-profit inter-denominational organisation that seeks to promote theological study, interfaith dialogue as well as interactions between people and institutions from different religious traditions, spiritual and humanistic beliefs.
I first came to Canada in 1965 when I received a scholarship from the Anglican Church of Canada to read for the Licentiate in Theology at Huron University College in London, Ontario. After completing my study I returned home to work at St. Stephens, Princes Town in rural Trinidad. After serving there for about five years, I was again fortunate to be granted another scholarship. This time, I came to Montreal Diocesan Theological College to study of at the School of Divinity at McGill University.
The late Dr John Boorman was the Principal at Dio and he was also my Ethics Professor at McGill University. My time at Dio and at McGillwas rewarding and enriching. For one thing, I shared accommodation with a number of other international students. Some of the McGill students living at Dio were not studying theology. My interactions with these persons greatly helped to broaden my perspective and world view. My roommate at the time was a Pakistani student called Alexander Malik who would later go on to become the Bishop of Lahore. We shared in many meaty discussions on various theological topics as well as our experiences of being foreign students in North America. You must recall that I arrived in Montreal just a few years after what has become known as the "Sir George Williams riots" when a number of students, led by West Indians (including a number of Trinidad and Tobago nationals) occupied the Computer Lab. The incident is now seen as one of the most significant in the history of race relations in Canada, and it gave us cause to explore the issues of inequality, racism, human rights, national liberation movements and multiculturalism. Many of these issues are still shaping the contemporary debate. We felt that we were living at a time of great social change in Montreal and Canada as a whole, as it adjusted to the challenges posed by diversity and pluralism.
Alexander Malik encouraged me to study Comparative Religion as he himself had come to McGill to do a Masters degree in Islamic studies. McGill at the time was noted for being one of the best places for Islamic studies. This program was directed by Professor Adams. We were also encouraged to explore more non traditional areas of study(for theology at least) including; Development Studies, Sociology and Caribbean Literature. Indeed, this is how I first encountered Professor Kari Levitt who has played such an instrumental role in the development of economic thinking in the Caribbean and Latin America.
I completed my B.Th and went on to the Masters in Sacred Theology programme. It was during this period that I was approached about becoming honorary assistant to Canon John Slattery, then Rector at St John the Evangelist in Montreal. The post came with a small apartment and I was encouraged to take up residence. However, I still continued to visit and fellowship with my Dio colleagues. Our discussions were not just confined to intellectual debates about theology and the state of the world but by that time we had become great fans of ice hockey. In my case, I was a big fan of the Montreal Canadiens as I had actually met the great Ken Dryden, the Montreal Canadiens goalkeeper, who was at the time studying for a law degree at McGill. Other teams popular with the Dio contingent included the Toronto Maple Leafs and the Chicago Blackhawks then led by Bobby Hull.
When I completed my S.T.M in 1974, I stayed on for a while in Canada. I first served as assistant to the Chaplain of Bordeaux Prison in Montreal where I often celebrated the Holy Eucharist in the prison. Later on, I went on to the Urban Training Center in Toronto where I also did some work with the Ontario Welfare Department. I finally returned home to Trinidad and Tobago in 1975 were I still live today. I am indeed grateful for my Dio experience. My time there has greatly helped to shape my spiritual and intellectual development.