The Board of Governors of Montreal Diocesan Theological College is pleased to announce the renewal of the contract of the Rev. Canon Jesse Zink as principal of the college.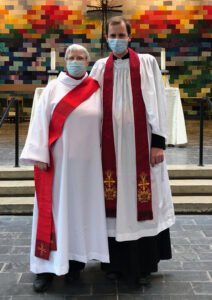 "Jesse arrived in 2017 and has been a transformational leader for the college," said the Rt. Rev. Mary Irwin-Gibson, Bishop of Montreal and Chair of the Board of Governors. "He has raised the profile of the college, launched new educational programming to serve the needs of a changing church, recruited an expanded student body, and steered the college through a global pandemic. He has done this with skill, good humour, and grace." 
Dr. Zink's first five-year term ends this summer. Over recent months, the Board of Governors conducted an extensive review process of his performance, surveying and interviewing students, staff, faculty, alumni, colleagues, and others who interact with Dr. Zink on a regular basis. The review revealed strong support for Dr. Zink's leadership and cited the accomplishments of his first term, including leading a successful reaccreditation process with the Association of Theological Schools; securing a major grant from the Lilly Endowment in the United States to expand programming in several critical areas; negotiating an agreement with the United Theological College to launch a United Church Studies Program at Dio and ensure the future of United Church theological education in Montreal; expanding the fundraising and recruitment work of the college; and launching creative online educational offerings that serve the church across Canada and the United States. 
"Standing as it does at the intersection of McGill University, the ecumenical Montreal School of Theology, and the local congregation, Dio is a real treasure in the Canadian church," said Dr. Zink. "It has been my privilege to stand on the shoulders of those who came before me and serve as principal in this moment of change, challenge, and transformation. I am immensely grateful to the Board for their continued support of my ministry, to the faculty and staff of the college for their colleagueship in this work, and above all to the students whose energy and enthusiasm for ministry and the proclamation of the gospel at this time continue to inspire and sustain me in my work." 
Dr. Zink will begin a new five-year term this summer, including a one-semester sabbatical planned for the coming academic year. 
Montreal Diocesan Theological College (widely known simply as "Dio") was founded in 1873. For over a century, it has worked in collaboration with McGill University and the colleges of the Montreal School of Theology to prepare students for lay and ordained ministries in the church.