(La version française est disponible.)
The United Theological College and Montreal Dio are taking new steps to deepen their relationship and provide for excellent theological education in Montreal.
In agreement documents approved by the Boards of Governors at separate meetings on April 21, 2022, Dio agrees to formally launch a United Church Studies Program that will prepare students for ordered ministry in the United Church of Canada. Dio also agrees to continue building on UTC's work with French-speaking students and students learning French by offering and enhancing French-language programs and programs that prepare people for bilingual ministry.
Patty Evans, the chairperson of UTC's Board of Governors, said, "We are entering this partnership with aspirations for all that we hope to gain as we share and learn from one another, mutually celebrating our gifts and strengths. As the UTC Board of Governors, we are gratified that our aim to ensure the continuity of United Church theological education in Montreal beyond the existence of UTC itself is being realized."
UTC will take steps to wind down its legal existence and transfer its remaining assets to Dio. In turn, Dio will amend its constitution to provide for United Church participation in its governance. Dio will be an ecumenical institution that continues to train students for ministry in the Anglican, United Church, and other traditions, in partnership with the Montreal School of Theology and McGill University.
"God is always calling us to new things," said the Rt. Rev. Mary Irwin-Gibson, Anglican Bishop of Montreal and President of Dio. "The decisions we are making are the result of the great faithfulness and goodwill shown by all who have been involved in this process. We are excited to see what new fruit this partnership will bear for our churches."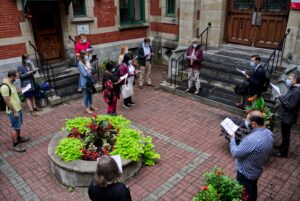 In January 2021, Dio and UTC announced an 18-month strategic alliance. In spring 2021, UTC sold its building on University Street and moved into Dio. For the past academic year, the two colleges have been working alongside one another. A survey of UTC students conducted in February 2022 showed significant levels of satisfaction with the arrangement and a unanimous desire to continue the partnership between the colleges beyond this year.
A planning process led by a working group of members of the two Boards of Governors has been taking place over the past year. This involved a two-day joint meeting of the members of both Boards as well as significant focused work by various task groups.
Michael Blair, General Secretary of the United Church, stated, "I welcome the new combined college of UTC and Dio as a concrete demonstration of a shared common table based on ecumenical collaboration, and the furthering of intercultural theological education and formation, including French formation for lay and ordered ministries. This new common table will help United Church and Anglican students engage deeply in ecumenical practice and sharing together throughout their theological education."
"The last year has shown us the great potential of this relationship," said the Rev. Canon Jesse Zink, Dio's principal. "We've seen great growth in our online courses for lay people, in English and in French. We've learned about how UTC's work in French can enrich a broader audience. And we've realized how we are called to partner in the work of preaching the gospel. I'm looking forward to what we can continue to do together."
Montreal Diocesan Theological College (known simply as "Dio") was founded in 1873. The United Theological College was formed in 1927 from the combination of earlier denominational colleges. The two colleges, along with the Presbyterian College, form the Montreal School of Theology, a theological institute which has collaborated with McGill University since 1914 to deliver theological education on University Street in Montreal.