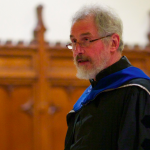 By the Rev. Dr. John Simons, principal
When I was a student in theology (divinity, as we called it then), we were informed that the purpose of a theological education was to make us 'professional' ministers. In fact, understanding ministry as a profession akin to law or medicine was the justification for including theology in the modern university which could admit only sciences, broadly conceived, as authentic fields of study. The so-called 'father' of modern theology, Friedrich Schleiermacher, in the nineteenth century, provided a new framework to bring the traditional disciplines in line with modern scientific studies and argued that these disciplines were given unity through serving the clerical profession. A professional is someone who has mastery of a body of knowledge which he or she is able to apply in situations of human need and thus bring about healing, as in medicine, or justice, as in law, or both, as by analogical extension, in ministry.
While a theological education can be pursued for purposes other than preparation for ministry, the basic degree program in North America is designed for what is unapologetic-ally called 'professional' ministry. At the same time, what it means to be a professional has been inflected in new and various ways so that we now work with a broad spectrum view of ministry.
One of my teachers, an Anglo-Catholic socialist, liked to point out that while other professionals wait for people to make an appointment and come to them, the priest is an apostle, that is, sent into the world in order to understand its aspiration, suffering and need from within. Just as Jesus brought good news to the poor and freedom to the oppressed, so the church which is his body must be with those who in our time suffer the same fate, and only from this position of solidarity can the church witness with fidelity and hope to God's reign of justice and peace. In this, as in other respects, my Professor of Pastoral Theology, Charles Feilding, anticipated our contemporary emphasis on ministry as participation in God's mission.
It was also in the sixties that basic degree programs began to integrate Clinical Pastoral Education into the curriculum. The body of knowledge that gave the professional minister authority now included self-knowledge and the capacity to appreciate the psychological dynamics at work in interpersonal and wider social relationships. It was at this time that the notion of ministry as therapy gained traction, and Henri Nouwen, reviving a medieval trope, taught us to think of the minister as the wounded healer.
Anglicans could not long ignore the fact that our distinctive identity as an ecclesial body within the ecumenical church has much to do with our tradition of common prayer. The re-assessment of our liturgical heritage in the light of modern historical scholarship and contemporary culture contributed to the articulation of a 'doxological' understanding of ministry. The Orthodox have always had this emphasis, and a Methodist theologian, Geoffrey Wainwright, wrote a systematic theology based on the church's worship practices. Twenty years ago, I heard our former Primate, Michael Peers, give a series of lectures in which he argued for the proposition that ministry is a performance art. Pastoral leadership, he suggested, consists essentially in gathering the community and enabling it to enter the mystery of redemption through liturgy dilated in music, poetry, dance and story-telling.
Hence in the half-century just passed, the purpose of theological education has been variously interpreted and seminaries have developed curricula to encourage students to integrate a spectrum of virtues. We want our graduates to be persons of theological intelligence, social conscience, mature self-understanding, and liturgical savvy. A tall order!
One advantage to this broad spectrum view of professional ministry is that it honours the variety of gifts the Spirit bestows on the church. Theological education is not cookie cutting. There is room in professional ministry for the teacher and the prophet, the pastor and the mystic. But is there a future for this broad spectrum view?
It is sometimes suggested that professional ministry is a luxury the church can ill afford. A temptation for the church that anxiously contemplates its shrinking size and influence will be to look for a quick fix. This might mean continuing to require an educated ministry while privileging a narrow set of skills. Or it might mean abandoning theological education altogether. I believe that a quick fix strategy would ultimately prove disastrous for the church. My reason for believing this is that the virtues we encourage in professional ministers are not the preserve of a clerical caste. A church that takes seriously its vocation to participate in God's mission will want to have the same broad spectrum of characteristics at the  level of its common life that professional education attempts to encourage in those called to equip the saints. Hence the importance of programs like Education for Ministry.
What prevents Christian communities, that is, congregations, parishes and dioceses, from aspiring to a greater integration of theological literacy, social conscience, cultural maturity and liturgical grace? Nothing! Except perhaps distrust of theological education and an unwillingness to be held to public, indeed professional, standards of ministry.